Oregon cities Ashland and Portland have (once again) been named among the Best Places to Live and Work as a Filmmaker in North America (well, yes, Montreal, Toronto and that other city across the border to our north [but not the one in Washington] are on the list too).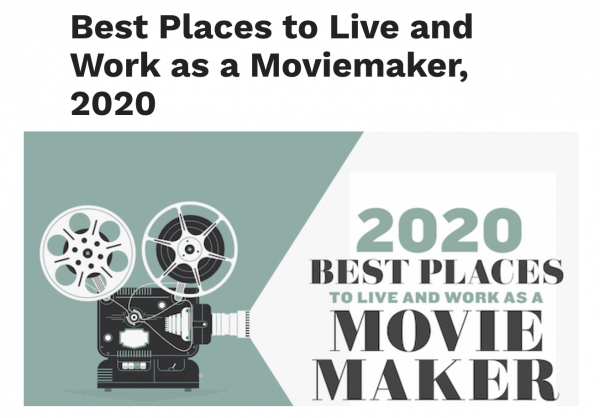 We knew this all along, but it's certainly nice to be properly recognized. If you haven't seen the complete list you can check it out for yourself here. Congrats to all the hard working and talented filmmakers, actors, crew and wonderful creatives that help make it happen, every day.
What they said about Portland:
The mystery of the Pacific Northwest has long inspired unconventional filmmakers, from Gus Van Sant to David Lynch to Kelly Reichardt. And Portland's idiosyncrasies fueled eight seasons of wry observations on the unparalleled Portlandia. The city is the perfect spot for moviemakers looking to live and work in a place that's charmingly off-center. Among the city's unique attributes are the McMenamins' "view and brew" movie theaters that pair handcrafted ales and pub grub with well-curated films. Other unexpected highlights are film festivals for two-wheeled fans: Filmed by Bike is a touring film festival that showcases bike movies, and the Portland Motorcycle Film Festival screens feature and short motorcycle films.
The enigmatic Nicolas Cage, of course, fits in perfectly: He filmed Pig in the city late last year. The film, directed by Michael Sarnoski, is about a truffle hunter whose prize pig is kidnapped. Other movies that recently filmed in Portland include Sorta Like a Rockstar, based on the novel by Matthew Quick.
Size matters not for the smallest city on our list, a pound-for-pound cinematic powerhouse.
With a (slightly) growing population of 21,263 people, Ashland boasts eight regional production facilities and 14 equipment rental houses, plus accessibility to larger production centers like Portland and San Francisco, and non-stop flights to Los Angeles. That means film professionals can keep connected to Hollywood even while living in the tranquil foothills of the Siskiyou and Cascade mountain ranges. The town's 785 acres of parks include Lithia Park, 93 acres of forested canyonland around Ashland Creek.
Ashland is home to several festivals, including the Ashland Independent Film Festival, now entering its 19th season, the annual Killer Valley Horror & Comedy Film Festival. It's also the home of two active film non-profits, Film Southern Oregon and Southern Oregon Film Society, and a hub for the industry trade group, Oregon Media Production Association. And it's the headquarters of the independent theater chain Coming Attractions Theatres, which operates 18 cinemas from Northern California to Alaska.
Film Southern Oregon estimates that the region's film industry expenditures range between $6-8 million annually. Recent projects shot in and around Ashland included parts of the Netflix documentary Fire in Paradise and a new series with Jim Belushi, who runs a nearby cannabis farm.
#OregonMade