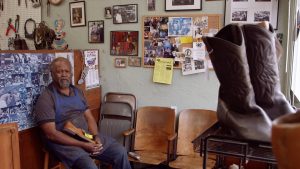 Coming off a successful festival run that included screenings at BendFilm Festival, Portland International Film Festival, Palm Springs International ShortFest and Napa Valley Film Festival, SOLE DOCTOR, directed by Portland filmmaker and journalist Paula Bernstein, is now available on Amazon Prime.
The five minute cut of SOLE DOCTOR has qualified for 2020 Academy Award consideration (for documentary short subject) after screening theatrically in New York and Los Angeles alongside Gene Graham's "This One's for the Ladies." The full 11 ½ minute version of the film is available online at www.soledoctorfilm.com.
SOLE DOCTOR is a short documentary set at George's Shoe Repair, a family-run business in Portland, Oregon that has served the community for over 50 years. Approaching retirement, George is preparing to pass the store on to his son, Joshua, a former modern dancer. Mia, Josh's young daughter, also learns the family trade.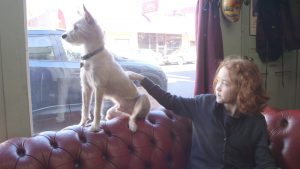 Bernstein says: "Inspired by my favorite documentary filmmakers and my local Portland filmmaking community, in summer 2016 I set out to capture what made this small family-run cobbler business special. I loved the rapport between George and Josh – and wanted the viewer to get a sense of what it felt like to spend time with them at the shop. Instead of going in with a specific narrative in mind, I let the 'story' unfold naturally – over the course of two years. It was important for me to make a hopeful film that focused on craftmanship, family bonds, and community."
Watch SOLE DOCTOR now at Amazon Prime OR www.soledoctorfilm.com.
Paula Bernstein is a Portland-based filmmaker and journalist who regularly contributes to Fortune Magazine, where she reports on the entertainment business. She is the co-author of Identical Strangers: A Memoir of Twins Separated and Reunited. SOLE DOCTOR is her first film. Visit her at www.paulabernstein.com.