The Portland Art Museum and Northwest Film Center are pleased to announce that Amy Dotson will be the next director of the Northwest Film Center. Dotson comes to the Film Center from the Independent Filmmaker Project (IFP), the oldest and largest organization in the United States championing the future of storytelling on all platforms, where she served as the Deputy Director & Head of Programming for over 13 years.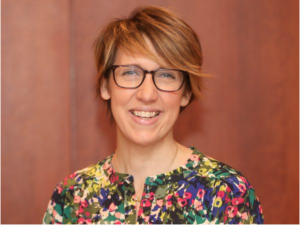 Dotson was selected from a national slate of candidates with members of the Portland film and arts communities participating in the interview process.
In her new role, which she begins in September 2019, Dotson will be responsible for the overall vision of the Film Center, including strategic planning, fundraising, and program direction. She will also collaborate with the Museum's curatorial departments as Curator of Film and New Media, applying her extensive film and new media experience, as well as leveraging her strategic, industry and international relationships in support of the Film Center's future as a world-class center for film and new media storytelling. Dotson joins Education Director Ellen Thomas, Development Manager Rachel Record, and Programmer Morgen Ruff at the leadership level to create a sustainable and cutting-edge future for the Northwest Film Center.
"The Film Center plays a critical role in our city, state and region, connecting audiences to this vital art form," said Portland Art Museum Director Brian Ferriso. "Amy's deep experience and knowledge in filmmaking, new media programming, and supporting artists at all levels is an excellent fit for the Museum and the Northwest Film Center. She has successfully implemented initiatives that have broadened significantly the scope of film appreciation and filmmaking, and she brings an inspiring vision to our community."
During her tenure at IFP, Dotson supported more than 2,000 artists on a variety of singularly visionary projects including Barry Jenkins' Moonlight, Gillian Robespierre's Obvious Child, Terence Nance's An Oversimplification of Her Beauty, Dee Rees' Pariah, Jennifer Fox's The Tale, Cathy Yan's Dead Pigs, Joe Talbot's Last Black Man in San Francisco, Boots Riley's Sorry to Bother You, Sandi Tan's Shirkers, and Elan & Jonathan Bogarin's 306 Hollywood.
In addition to the creative oversight of all domestic and international programming and partnerships for the organization's signature programs, including IFP Feature Film, Series, and Audio Story Labs, IFP Week & Conference, and IFP Expanded International, Dotson and her team curated over 150 new works-in-progress each year in film, television, digital and audio from the U.S. and more than 20 international partners in Asia, Africa, Canada, Europe, Latin America, and the Middle East, helping industry and audiences discover over 350 new talents. She was also one of the senior leaders of the Made in NY Media Center by IFP, a 20,000-squarefoot incubator space in Brooklyn, N.Y., developed with the Mayor's Office of Media and Entertainment where storytellers from multiple disciplines, industries and platforms come together to create, collaborate and connect. In addition, Dotson worked closely on IFP's signature awards show and fundraiser, IFP Gotham Award, which kicks off the U.S. film awards season annually.
Dotson has previous experience as a producer, festival programmer, executive and international head of studies, as well as continues to be a founding Group Leader of the prestigious Venice Biennale College Cinema.
"This unique relationship between Museum and Film Center allows me to work at the epicenter of all the creative arts and experiment with film, emerging media, and technologies in exciting ways that create new ways of experiencing the world for audiences and creatives alike," said Dotson. "I could not be more excited to bring my intersectional experience in the film, new media, and immersive arts to continue PAM and the Film Center's mission to serve its community, encourage and promote cutting-edge storytelling, and work with the team to push the boundaries of what's next."
Through the evolving landscape of filmmaking and storytelling since the Film Center's founding in 1971, the Center has remained committed to serving as a responsive, regional media arts resource. The Film Center produces several key festivals including the Northwest Filmmakers' Festival and the Portland International Film Festival, Oregon's largest film event, and offers a dynamic film exhibition program, youth and adult filmmaking and storytelling education, professional development services to filmmakers, and community equipment rentals.
"At his retirement celebration this past August, former Northwest Film Center Director Bill Foster spoke about his true goal—to build community. Film just happened to be his medium of choice," said Portland filmmaker Brian Lindstrom. "I'm excited to welcome new director Amy Dotson, who shares this deep commitment and passion to bringing people together via the power of moving images. Some of the most profound and rewarding experiences of my life were thanks to the Filmmaker-in-the-Schools and Filmmaker-in-theCommunity programs, and I'm hoping future Northwest Film Center filmmakers will have similar opportunities to put a camera in the hands of someone—often someone who might not otherwise get the opportunity—and help them realize their vision, find their voice, share their story and bring us together."