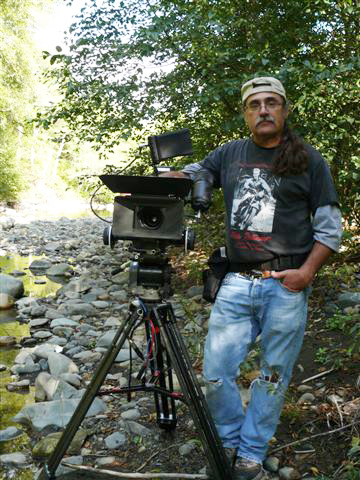 Spotlight on Rocky Garrotto
Location Scout and 1st AC
"I love location scouting – it's like a treasure hunt."
In a smaller market like Southern Oregon, you have to wear multiple production hats to work year-round, and so in addition to still photography I also shoot video, edit, and often work as a 1st AC. But I really love location scouting – it's like a treasure hunt. Being versatile and tech-savvy comes in handy when using various software and logistical GPS app tools, such as "Where Am I" for longitude, latitude, altitude and address information. Being able to stitch together panoramas and uploading them to professional sites for producers in near real-time is also important. When scouting sites having the right professional equipment and the right skills are essential. For instance, there was a producer of a major motion picture who wanted video to see exactly what a sunrise and a sunset looked like over Wizard Island in Crater Lake. A trip memorable for both its beauty and the cold!
Not every scouting trip is for a big-budget production. Oregon sees a range of productions from local car commercials to micro-budget Indie films to features like "Wild". The important thing to a Producer or Director, especially one from out of state, is that the local scout knows his area, and understands details like crew access and proximity (or not) to electricity or bathroom facilities. And over time, a good scout builds up a useful library of sites providing timely answers to inquiries.
The beauty of shooting in Southern Oregon is its diversity. A production can find any landscape in any season: high desert to the ocean; sand dunes or caves to rivers; mountains to lush farmlands and vineyards; small rural towns to urban landscapes. We even have a 9,000 acre ranch that is perfect for historical pieces away from traffic or power lines. Whatever 'look' you have in mind, I can find it in Oregon.
Locations, AC, Camera Operator
http://imdb.com/name/nm1710422/