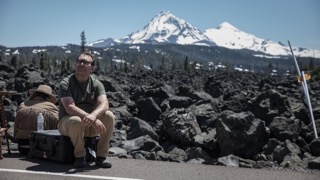 Being a location scout in the state of Oregon with the name Enrique Arias has always been a challenge. People tend to think I'm not a native of the state, but the fact is I have lived in Oregon all my life. I was born in Portland, Oregon. My parents and the rest of my family immigrated from Cuba in 1963. Don't ask me how Cubans ended up in Oregon, it's a long dramatic story.
I inherited a love for Oregon from my father. My dad was a blue collar worker. He worked the assembly line building forklifts for the Hyster company but whenever he got the chance, he would pile the family into the wagon and take us to see all the beauty Oregon had to offer. Trips to Mt. Hood, the Sandy River, the Gorge, the Salmon River, as well as the Oregon Coast – from Tillamook to Astoria – made wonderful memories for me sitting in the way back of our Ford Country Squire. No seat belts required.
At 18, I was cast by Gus Van Sant for the role of the younger brother in his early film Mala Noche. However, I had to turn Gus down because I got my first paid gig to act in Ashland, Oregon on an industrial film with Sandler Films. I decided to pursue acting as a career and went to the U. of Oregon where I graduated with a degree in theater. I moved back to Portland to work in sports marketing and became a professional actor. In the 90's, I was acting on stage and in industrial films as well as Made-for-TV movies. It was during this time when I acted in an independent film that I got to spend time with the crew and get a real look at working behind the camera. Several crew members encouraged me to work behind the camera and recommended I take a class from Kathleen Lopez, who taught a Production Assistant class downtown. Mrs. Lopez hired me as a PA right after completing the class and from there I worked my way up to locations asst. then scouting and managing locations. Since that time, I have added production coordinator, producer, 2nd AD, director, and writer to my resume. However, location scouting remains my core passion and I use my experience as a scout to augment my many other skills.
I love Oregon and I'm proud to show the state as a location for filming. There is so much diversity of geography and diversity in its cities and small towns – the world is represented well in the single state of Oregon. I can show clients the ocean, snow covered mountains, sand dunes, deep canyons, high desert, old growth forest, rivers, waterfalls, and open sky. I get to show clients all of these geographic variations.
Clients looking for big cities or small towns for their locations are surprised to see that not only do we have both but that we can often represent periods of time in these locations fairly easily.
I've had the good fortune of not only working with US film companies but also working with foreign crews from South Korea, Japan, Mexico, Germany and the Netherlands who specifically come to experience what our state has to offer and it's tremendous diversity of locations. As a location scout, I've always dreamed of getting an opportunity to show Oregon in one single project.
My dream came true in 2016 as a location scout and production manager when I was hired to work for a reality TV show from the Netherlands called, "Wie is de Mol?". This project required working in almost 3/4 of the entire state. I believe the trailer, as well as the full 2017 season, is the best advertisement for why anyone should film in Oregon – see the opening trailer for "Wie is de Mol", Season 2017, here. We landed helicopters on Rowena loop, flew them down the Columbia Gorge and landed them in downtown Portland. We lit spectacular fireworks over the ocean in Manzanita, re-created a wagon train on the Oregon Trail in Pendleton, paddled canoes on Sparks Lake outside of Bend, rode bikes through the Painted Hills, filmed on and from hot air balloons over Smith Rock. What made this job so magical was the people who we met and worked with along the way. I can't say enough about all of the communities that worked with us to get the project done – City departments, National Park rangers, State of Oregon park rangers, shop owners, tourism commissions, Eastern Oregon ranchers – they were all amazing. Every time I made a request for a permit or needed extra help on getting a location, the people of Oregon were always willing to help to get things done. Oregon is a great place to film. The people of Oregon make the experience even greater.
Enrique Arias
Common Good Communication LLC
[email protected]
commongoodcommunication.com
503-317-8456