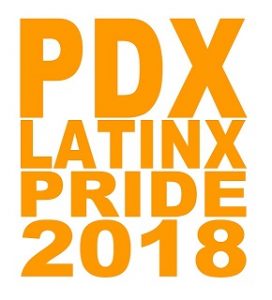 Being part of the PDX Latinx Pride planning and organizing committee has satisfied many parts of us, the members. The group wants to build community and heal ourselves through workshops, retreats and conversations. We also seek to see ourselves in many parts of the artistic spectrum. In fact, creating safe spaces and diversifying art in many mediums has been a goal for many of us. The majority of the committee is made up of multi-media artists. We are made up of musicians, performers, writers, designers, directors, as well as the ever creative parts of our organizing that may appear not to be, like finances, outreach and moderating. However, visual arts have taken a focus for a lot of our supporters when we host dancers, Drag performers, singers, story-tellers on stage, as well as video, in the case of this event, short films.
In the last few years the committee has evolved starting with the name, formerly known as Gay Latino Pride, to the individuals involved, as well as a newly formed schedule of events throughout the year. We keep our monthly Noche de Baile at Crush. Additionally, our yearly schedule is expanding, in order to allow us to keep active throughout, as well as focusing our energy into each event in order to connect with our communities. We host a day-long festival in the summertime. Soon we will host our second Noche de Arte, as well as hangouts, and Noche de Juegos (as seen in the image to the right).
Noche de Película came into my hands last year, the summer of 2017. After volunteering at many festivals, and sometimes reviewing films, for QDoc, Portland Queer Film Festival, as well as the DC Independent Film Festival, it was a joy to curate a night of shorts showcasing the different parts of the queer, Latinx, Hispanic, Spanish and Portuguese-speaking spectrums. We showed a wide array of content. We hosted a solid crowd of movie-goers as we finished our July festivities. This year, we made the decision to host our events separately in order to focus more on each entity. This year allowing us our last summer activity in partnership with Hollywood Theater.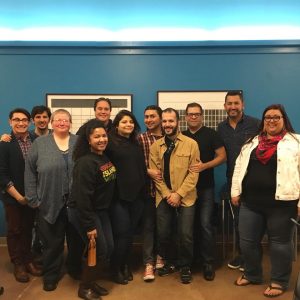 This event has a goal of supporting local filmmakers and Oregon-created content that falls into the QTPoC realm of story-telling and intent. As we allow this piece to grow, we will show international content from Argentina, Brazil, Colombia, Mexico, Peru, and Spain, as well as local content made by Latinx persons in the Pacific Northwest.
The night will include experimental short films, animation, documentaries, as well as fictional stories revolving around family, relationships, dating, dancing, the spectrum of identity (both sexual and gender), religion, being Latinx in the USA, and  more. All content will have English captions for those who may need it.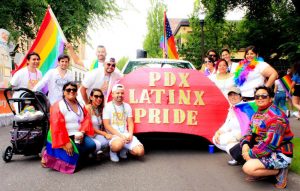 Come celebrate with us:
Sunday, September 16th, from 6-8PM, at the Hollywood Theater located:
Tickets $9.00/each.
For more information regarding up-coming events, donation, local sponsorship, how to volunteer and, or attend monthly meetings, please write to us via our website, PDX Latinx Pride.
Follow us on FaceBook, Instagram and Twitter.
¡Nos veremos pronto!
Samuel, PDX Latinx Pride Committee Member
(c) All images belong to PDX Latinx Pride and its website.