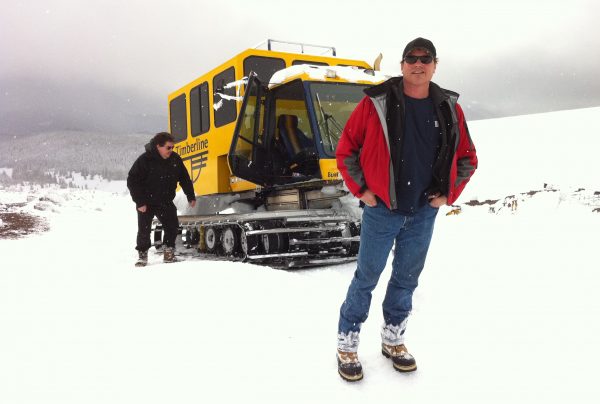 When I was 14 years old I answered our home phone and there was a man on the line that said he was looking for old cars to use in a new movie called, "Animal House". I told him that my mom has an old car. The next thing I knew my mom and I found ourselves at the Dexter Lake Club for 2 nights of filming on the set of "Animal House". I became instantly enamored with the film making process. Years later I graduated from the U of O with a degree in Accounting. With no prospects in sight, one of my best friends from college, Sara Burton, suggested I go apply at the accounting office for the new feature film, "Without Limits" that was just setting up production in Eugene. Sarah had been hired as the Location Manager on the show and my other good friend Shaun Gavin was one of her assistants. I got my first job as an accounting clerk on that show and decided early on that I liked what Sara and Shaun were doing far better than my job in accounting.
I soon became a Key Assistant and would work the next several years mainly for Shaun and my other good friend, Doug Hobart. We worked for peanuts back then and shot what seemed like an endless amount of Lifetime TV movies. My first job as a Location Manager was on Electric Entertainment's TV series, "Leverage" which lasted 5 seasons. In 2013, I continued my relationship with Electric Entertainment on their next series "The Librarians". Along the way I was also able to start a business, Locations PDX, which provides Location Equipment rentals to many local productions.
For me, the most exciting part of my job is peeling back the pages of a script and then hitting the trail and finding that perfect location. I have repeated that process thousand of times in places far from home, but there is truly no place like Oregon when it comes to scouting locations. I was lucky enough to work on the feature film, "Wild" staring Reese Witherspoon. We spent 35 days on the trail with Reese starting in Mojave, CA (Bend, Oregon) and ending at The Bridge of the Gods on The Columbia River Gorge. With stops in Ashland, Crater Lake and Portland along the way.  The amount of diverse and stunning locations on "Wild" was so much fun to deliver!
During my career I've been able to witness the steady upward trend in our film industry here in Oregon. This amazing growth to our industry is due in no small part to the efforts and hard work of our State Film Office and the dedicated craftsmen that make up our amazing film crews. It's been so much fun to be a part of! I truly love my job and thank my good friends Shaun and Sara for helping me to find this path!
https://locationspdx.smugmug.com/
541-510-1434