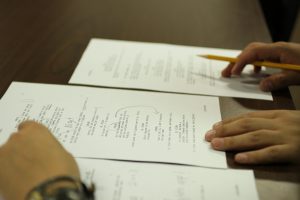 As part of the 45th Northwest Filmmakers' Festival, the Northwest Film Center is excited to launch the scriptwriting contest Northwest Exposure.
Short narrative script submissions (10 page max) will be accepted through August 20, 2018. 7 scripts will be selected to be read by professional actors at a table reading during the 45th Northwest Filmmakers' Festival (Oct 31 – Nov 5). A panel of guest judges will choose the winning script, which will then be awarded a prize package made possible by the Portland film community to support the production of the winning script. This will include camera and gear packages, insurance, studio time and more.
Rules:
Scripts must be narrative in nature, but sub-genre can be anything. Panelists will only read 10 pages of the script, so if it is longer, please choose only the best 10 pages. This is for short films, so the overall length of the script must not exceed thirty minutes.
Please submit your script, with name and short bio along with any production notes (who would be directing and/or producing the film, if other than the writer).
Submitted scripts should be properly formatted and not longer than 10 pages.
Submissions should include a cover page with a title and the writer's name and contact information. (This will not be counted towards the 10 page total)
Winning projects will be chosen by a small, hand picked panel of judges.
Notification of inclusion in the table reading will be made by September 15.
Deadline to submit is August 20 at midnight PST
Please send all submissions to [email protected]
Awards (at this time) courtesy of:
Digital One Audio Post Production