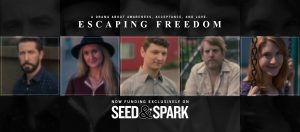 Portland filmmaker Edd Blott (A Tale of Delight and Letters) is setting out to spread a little love for the LGBTQ community with his second feature film, Escaping Freedom, which begins shooting November 2017. After working on a prologue web series entitled 'Letters' with Portland actor Patrick Green for the past year and a half, the team is ready to bring Blott's feature length script to life. "We just seem to be living in some rather dark, anxious times and, as filmmakers, this is the only response we know that can maybe lead to some positive outcomes. Throughout history, the art of story and film has proven exceptional power in changing hearts and minds." says Green. "We just want to shine a little light into the darkness." says Blott.
Escaping Freedom takes a look at a pair of siblings who have very different outlooks on what it means to "be free".  Vincent (Patrick Green), a pastor in the midst of a crisis of faith, is pushed to the limits by his free-spirited but troubled actress sister Krystal.  At it's core, the film wishes to look at awareness, acceptance, and love.  Kelly Godell was cast as Vincent's hedonistic sister Krystal for the final episode of 'Letters' and will be back for the feature film as well.  Further casting includes Jonathan Miles as a fellow pastor falling for Vincent, Brian Koch (of Blitzen Trapper) as Krystal's theatre director and mentor, and Laura Welsh as a single mother in Vincent's congregation.  Also cast are Portland actors Jill Sughrue, Bethany Jacobs, Jeffrey Arrington, Adam Dunlap, Jonathan Wexler, and Stephanie Leet.
To learn more about the film and follow along with regular updates, check out the 'Escaping Freedom' page on Seed&Spark.