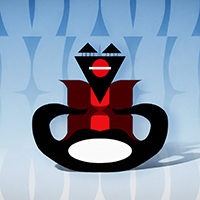 WORLD PREMIERE OF "North Of Blue" BY INDIE ANIMATION QUEEN – JOANNA PRIESTLEY
Acclaimed Indie animation queen Joanna Priestley has jumped off the deep end of the image pool into a luscious, mind bending, abstract animated feature film that will premiere at the Hollywood Theatre (Portland, OR) on September 21, 2017 at 7 PM. North of Blue (60 min.) began in the mysterious winter landscape of the far north where Priestley was filmmaker-in-residence at the Klondike Institute of Art and Culture in Dawson City, Canada. The program will include a special slide show about the Yukon and a demonstration on how the film was made. Tickets are available now.
Drawing inspiration from natural landscapes, "North of Blue" offers a dense multiverse of images and shifting focal points where scenes transmogrify from rhythmic dances to sublime trance-inducing patterns. Priestley deconstructs conventional icons to create shapes that spark a sense of connection and shared history. Jamie Haggerty's music and sound design, with additional sound effects by Chris Barber, provide a dense soundscape and melodic compliment to the ever evolving patterns of Priestley's animation. Paint effects and title design and animation were created by Brian Kinkley. All of the crew is from Portland, OR. Animation assistants on "North of Blue" were a talented quintet of interns from the Art Institute of Portland and the project was supported by fellowships from the Caldera Foundation and Willapa Bay AIR.
Working out of her studio in Portland, Oregon, Joanna Priestley has created a career out of making truly independent and iconoclastic animated works that are deeply personal while being thoroughly universal. Using a wide variety of media—sand, drawing on paper, glass, candy, 2-D computer drawing and more—her animation is wickedly alive and full of depth and strangely organic motion. Eschewing traditional character animation in favor of exploring human behaviors in fascinating new ways, Priestley has created a bold look for her films, which have humorously and touchingly riffed on the range of human fears, the goddess within, prison life, the delights of turning 40, and the pitfalls of romance. Her recent work has grown more abstract and innovative, drawing inspiration from the far north, rural Spain, Yucatan dives, and sculptor Joseph Cornell, among others. A body of work this diverse, eclectic and formally dazzling led animation Bill Plympton to proclaim her "The Queen of Independent Animation."
Priestley has produced and directed 27 short films, which have screened at top film festivals all over the world, including the New York Film Festival, Sundance Film Festival, Telluride Film Festival, San Francisco International Film Festival, Chicago International Film Festival, just to name a few. In addition to her festival screenings and retrospectives at venues such as MoMa New York, British Film Institute and the American Cinematheque in Los Angeles, her work has screened on both PBS and the BBC. In addition to her own animated films, Priestley has also created animation for wide variety of projects, ranging from "Sesame Street" to music videos for Tears for Fears ("Sowing the Seeds of Love") and Joni Mitchell ("Good Friends"). Joanna Priestley is the founding president of ASIFA-Northwest, and she runs an apprenticeship program through her studio in Portland, Oregon. Priestley studied painting and printmaking at Rhode Island School of Design and at UC Berkeley, where she received a Bachelor of Arts Degree with Honors. Ms. Priestley also attended California Institute of the Arts where she received an MFA Degree and the Louis B. Mayer Award. Priestley is a member of the Academy of Motion Picture Arts and Sciences, where she annually juries the Academy Awards, Student Academy Awards and Nicholl Screenplay Fellowships. She lives in Portland, Oregon with her husband, director/production designer Paul Harrod, and two cats.
"Imaginative, playful and whimsical, Priestley's work radiates a sense of wonder and delight about the art of animation." -Maral Mohammadian, Cartoons: International Journal of Animation.
"The exquisite animated world of Joanna Priestley has been one of the best kept secrets of the toon community… Undeniably original and hard to forget." –Animation Magazine
Hi Res Photos: http://www.primopix.com/press_photos.shtml
Tickets for the show: https://hollywoodtheatre.org/booking/tickets/1-311846/
North of Blue Website: https://northofblueblog.wordpress.com/
Priestley website: http://www.primopix.com/index.shtml
###
Please Visit
https://northofblueblog.wordpress.com/
for More Information!
​Please call
503.703.4844​
to Schedule an Interview