Props & Hops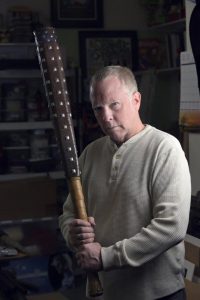 The Oregon Film Museum's TNT (Thursday Night Talks) lecture series continues March 16th, 2017 with a presentation by Propmaster Tim Oakley of Portland-based Oakley Design Studios. Tim designs and creates props for feature films, television shows and commercial shoots. His work has appeared in over 100 motion pictures, including Dark Knight Rises, Jurassic World, Indiana Jones 4, and all of the Star Trek franchises. He also works on Oregon made television series The Librarians and Grimm, and locally-shot Green Room.
The Oregon Film Museum-sponsored TNT lecture series is a free event at Fort George Brewery in Astoria, on the third Thursday of each month. Doors open at 6:00 pm, with lectures beginning at 7:00 pm. Seasonal beers on tap, food and other beverages are available for purchase. Minors are welcome with an accompanying adult.
For more information about this event please call 503-325-2203, or e-mail: [email protected].