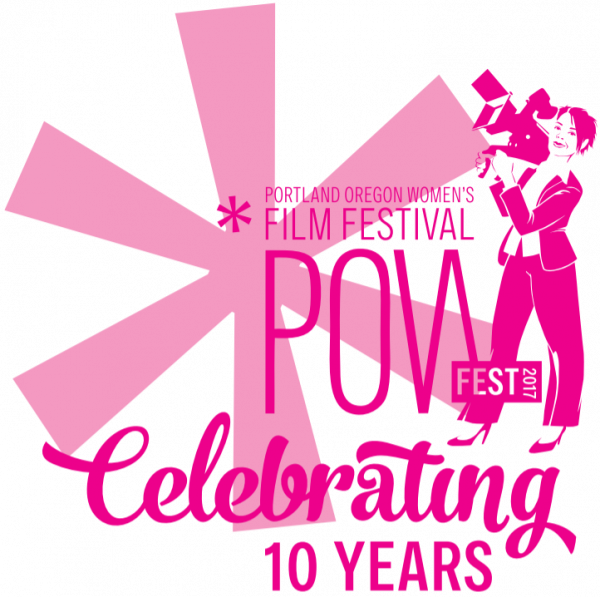 POWFest Celebrates 10 years of putting women directed films on screen with with BEWARE THE SLENDERMAN, THIS IS EVERYTHING: GIGI GORGEOUS, GUEST OF HONOR CHERYL DUNYE AND MORE, at this year's festival.
Portland, Oregon – February 16, 2017 – The Portland Oregon Women's Film Festival (POWFest) is pleased to announce the programming highlights of our upcoming festival scheduled to take place March 2-5, 2017 at The Hollywood Theatre. Tickets $9-$15 individual / $60 festival pass for premium access to all festival activities.
Celebrating its 10th year, POWFest continues to be the only film festival in Portland exclusively placing a spotlight on women directors with a goal to eliminate the gender disparity that exists for women working in the film industry. Dedicated to creating professional development and networking opportunities for women filmmakers of every discipline and skill level, each year, our festival seeks to showcase the work of women directors from around the globe while strengthening the community of women making films; encouraging the next generation of female filmmakers.
In keeping with the mission to educate the next generation, POWGirls continues to grow. FOUR films from the 2016 POWGirls workshops will make their POWFest premiere this year as part of the Youth Showcase: GLAZING SADDLES, NIGHT SHIFT, EDNA VAZQUEZ: PSICODELICA and VIOLET SHADOWS. Now in its third year, POWGirls will host five workshops in 2017 with the support of MetroEast Community Media, Open Signal, RACC and The Faerie Godmother Fund of the Oregon Community Foundation. These filmmaking workshops for girls 15-19, encourage creativity, demonstrating the power of storytelling, and give girls the chance to explore opportunities as future filmmakers – while becoming savvy in technology and media production. In each workshop, a group of girls conceive, write, film and edit their films.
In addition to incorporating the voices of this next generation of young filmmakers into the festival, POWFest programmers once again have curated a compelling lineup of thought-provoking, inspiring and entertaining films for 2017. From local and international features and shorts, to narrative and documentary, and even the innovative and youthful, this year's lineup includes: Short Film Blocks with themes like Quirky, Dark Tales, Family Drama, Expressions of Love, Animation & Experimental and our Young Directors program which appeal to broad audiences with their humor, integrity, fun and societal themes. A total of over 60 films will screen during the festival.
As a festival preview, POWFest is honored to present a special screening of BEWARE THE SLENDERMAN by Academy Award nominated and local Portland filmmaker, Irene Taylor Brodsky, who will be in attendance, on Sunday February 26, 2017 at 2:00 p.m. at The Hollywood Theatre. The film tells the true story of 12-year olds Morgan Geyser and Anissa Weier, who lured their best friend into the woods, stabbed her 19 times, then confessed they did it to appease a tall and faceless man known online as Slenderman. The film is presented by HBO Documentary Films and Vermilion Films and will be followed by a Q&A with the film's director, Irene Taylor Brodsky and Producer, Sophie Harris.
POWFest is thrilled to announce this year's Guest of Honor, award-winning director Cheryl Dunye, who will be in attendance throughout the festival. Dunye has made over 15 films including MOMMY IS COMING, THE OWLS, MY BABY'S DADDY, and HBO's STRANGER INSIDE which garnered her an Independent Spirit award nomination for best director. Her debut film THE WATERMELON WOMAN, was awarded the Teddy at the Berlinale in 1996 and was recently restored by Outfest's UCLA Legacy Project for the film's 20th anniversary. Dunye has received numerous awards and honors for her work including a 2016 Guggenheim Fellowship. Presently Dunye is a Professor in the School of Cinema at San Francisco State University.
"We are thrilled to showcase the brilliant and impactful films of Cheryl Dunye at this year's POWFest. Dunye's strong voice and willingness to challenge social and cultural norms is a welcomed voice during some powerful times in the women's movement, and one to be celebrated at our 10th Annual Festival." said POWFest Executive Director, Tara Johnson-Medinger.
Cheryl Dunye will facilitate a workshop with the participants of the POWGirls and will also be in attendance for her screenings of THE WATERMELON WOMAN, BLACK IS BLUE and THE OWLS (Saturday 3/4, starting at 700pm) with Director's Q&A at The Hollywood Theatre.
As always, the schedule includes stimulating content to engage the audience through conversations with the over 30 directors in attendance; including local directors, Irene Taylor-Brodsky, LeeAnne Lowry, Kia Anne Geraths, Brenan Dywer, and Leah R. Brown- encouraging dialogue beyond the theater as well.
In addition to films, POWFest and NW Documentary will host an Education Day on Friday March 3rd starting at 9:00 a.m. for attendees to network and participate in. Panel topics include: Creating & Maintaining Safe Spaces for Women's Voices, Documentary Filmmaking in a New Political Climate and Beyond Mentoring. Speakers include Carolyn Butts of African Voices & Reel Sisters of the Diaspora, Andi Zeisler of Bitch Media, documentary filmmaker Lindsey Grayzel, Destri Martino of The Director's List and HBO's CONFIRMATION Producer Janice Williams.
For a complete list of programming, schedule details and to purchase tickets, visit www.powfest.com.
Opening Night – Thursday, March 2nd, 2017, 7 p.m., The Hollywood Theatre
Opening night kicks off with THIS IS EVERYTHING: GIGI GORGEOUS, by Academy-Award winning director Barbara Kopple. The film portrays the intimate journey of Gigi Lazzarato, a fearless young woman who began life as Gregory Lazzarato, posting beauty and fashion videos to YouTube from his bedroom, only to later come out as a transgender female to an audience of millions. With never-before- seen personal footage, the film provides a raw and revealing look into a life that never compromises happiness, and spotlights a family's unwavering and unconditional love for a child.
At 9:00 p.m. the evening will continue with a festival favorite: QUIRKY SHORTS! This unique, fun, innovative, surprising and delicious collection of films includes blind dates, comic con, sneaky children, voyeurs and pus…–this whimsical collection of short films are sure to delight audiences.
Friday, March 3rd, 2017, starting at 9:30 a.m., NW Documentary
CREATING & MAINTAINING SAFE SPACES FOR WOMEN'S VOICES (9:30 a.m) –Participants include: Ana Ammann, Carolyn Butts, Andi Zeisler, & December Carson.
DOCUMENTARY FILMMAKING IN A NEW POLITICAL CLIMATE (11:00 a.m.) — Participants include: Courtney Hermann, Lindsey Grayzel and Jodi Darby.
BEYOND MENTORING (12:30 p.m)– Participants include: Destri Martino, Rachel Lambert, Ellen Thomas and Janice Williams
Friday, March 3rd, 2017, starting at 7:00 p.m., The Hollywood Theatre
IN THE RADIANT CITY (7:00 p.m.) – Presented in conjunction with the Ashland Independent Film Festival, IN THE RADIANT CITY, centers around Andrew whose brother Michael committed and unthinkable murder in the town of Medina, Kentucky. Andrew, was the only witness to the crime and his testimony sent Michael to prison for life. The trial, the crime, and its infamy tore their family apart. Now, Michael's case has come up for re-sentencing, and his lawyer, eager for a win, has summoned Andrew back to the place and people he fled, including a sister who rejected him for a blood betrayal, and a mother distraught by the loss of her sons. The film's director, Rachel Lambert is the recipient of The Faerie Godmother award for Stellar Filmmaking, co-presented by POWFest and AIFF. Ms. Lambert will be in attendance at both festivals and will receive the award at AIFF.
SHORTS II: DARK TALES (9:00 p.m.) – (mature themes) A collection of short films that hit hard on the darker side of the human experience. including I SHOULD HAVE RUN, LOLA STILL DANCES and THE MISSING KNIFE
Saturday, March 4th, 2017, 12 p.m., The Hollywood Theatre
REVIVAL: WOMEN & THE WORD (12 p.m.) – the film chronicles the US tour of a group of Black lesbian poets and musicians, who become present-day stewards of a historical movement to build community among queer women of color.
SHORTS III: FAMILY DRAMA (12:30 p.m.): Includes: IN A WARM DARK PLACE, SISTERS and THE OLD.
SHORTS IV: EXPRESSIONS OF LOVE (2:30 p.m.) – This shorts program explores all sorts of relationships – not just romantic, but sibling, friendship and to oneself. Includes GLIESE 667: THE MIRROR, THE SILENT MAN and DIANE FROM THE MOON.
GUEST OF HONOR CHERYL DUNYE DOUBLE FEATURE (7:00p.m.) – THE WATERMELON WOMAN, THE OWLS and BLACK IS BLUE will screen with a Q&A in-between.
Sunday, March 5th, 2017, 12 p.m., The Hollywood Theatre
THE VIEW FROM TALL (12:00 p.m.) – 17 year-old Justine is smart, unpopular, and tall. A sexual transgression with her teacher forces her into therapy with Dr. Douglas Cecil, a disabled man with demons of his own. As the lines of propriety between two lonely souls are stretched, and then broken, Justine must navigate the thorny issues of age, lust, and leaving your adolescent life behind. Plays with VIRGIN TERRITORY, a youth-created film about a girl with questions of her sexual identity, and all-around sexual confusion, bubbling to the surface, she suddenly realizes she wants to lose her virginity.
MUERTE ES VIDA (DEATH IS LIFE) (12:30 p.m)
ANIMATION & EXPERIMENTAL SHOWCASE (2:30 p.m)
POWGIRLS / YOUTH SHOWCASE (4:45 p.m.)
LUNAFEST (7:00 p.m) — The festival will close this year with a festival favorite, LUNAFEST. This season's program of selected films will compel discussion, make you laugh, tug at your heartstrings and motivate you to make a difference in your community. Incredibly diverse in style and content, LUNAFEST is united by a common thread of exceptional storytelling – by, for and about women. A portion of the ticket sales will benefit The Breast Cancer Fund. The screening will be followed by The LUNAFEST & CLOSING NIGHT RECEPTION at The Magnolia (across the street from The Hollywood Theatre)
POWFest is especially grateful to have been awarded a 2017 Project Grant by the Regional Arts & Culture Council (RACC) for the seventh year in a row to benefit the 2017 POWGirls Program, and appreciates our sponsors and community partners: The Faerie Godmother Fund of the Oregon Community Foundation, Hotel deLuxe, MetroEast Community Media, SAGIndie, Queen Bee Creations, ARTemis, LUNA, Koerner Camera Systems, NW Documentary, Open Signal, REX Post, Tanji, The Magnolia, Oregon Film, OMPA, Portland Film Office, Women Make Movies, HBO Documentary Films, Vermilion Productions, and the Ashland Independent Film Festival.
ABOUT POW FEST
The Portland Oregon Women's Film Festival (POWFest) empowers women to find their voice and share their stories through innovative and quality filmmaking by showcasing the work of today's top women directors at our annual festival and strengthening the community of women in film in Oregon year-round. We honor the true pioneers in the industry while providing support and recognition for the next generation of leading women filmmakers. In the past nine years POWFest has hosted the following prominent and very accomplished women directors: Allison Anders, Irene Taylor-Brodsky, Kathryn Bigelow, Gillian Armstrong, Amy Heckerling, Barbara Kopple, Ondi Timoner, Penelope Spheeris, Joanna Priestley and Catherine Hardwicke.