Celebrate food justice at the Portland premiere of the award winning documentary, SEED: The Untold Story! SEED: The Untold Story is the Opening Night Film at the Portland EcoFilm Festival at Hollywood Theater, Thursday, October 20 at 7:00pm. A Q&A with the local Portland filmmakers, Taggart Siegel and Jon Betz, will follow. Visit seedthemovie.com/portland for tickets and more info.
SEED: The Untold Story is an eye-opening environmental documentary about the dramatic loss of seed diversity and the movement to future of our food, from the creators of the award winning Queen of the Sun: What Are the Bees Telling Us? and The Real Dirt on Farmer John.
Few things on Earth are as miraculous and vital as seeds, worshipped and treasured since the dawn of humankind. SEED: The Untold Story follows passionate seed keepers protecting our 12,000-year-old food legacy. In the last century, 94% of our seed varieties have disappeared. As biotech chemical companies control the majority of our seeds, farmers, scientists, lawyers, and indigenous seed keepers fight a David and Goliath battle to defend the future of our food. In a harrowing and heartening story, these reluctant heroes rekindle a lost connection to our most treasured resource and revive a culture connected to seeds. SEED features Vandana Shiva, Dr. Jane Goodall, Andrew Kimbrell, Winona Laduke and Raj Patel. SEED: The Untold Story is Executive Produced by Marisa Tomei, Marc Turtletaub (Little Miss Sunshine), and Phil Fairclough (Grizzly Man, Cave of Forgotten Dreams).
SEED won the GREEN PLANET AWARD at Rhode Island International Film Festival, the Discovery Channel ENVIRONMENTAL AWARD at Sheffield Doc/Fest in England, GRAND JURY PRIZE at the Nashville Film Festival, BEST IN FESTIVAL at the Princeton Environmental Film Festival, and AUDIENCE AWARD and FEATURE DOCUMENTARY AWARD at Lunenburg Doc Fest.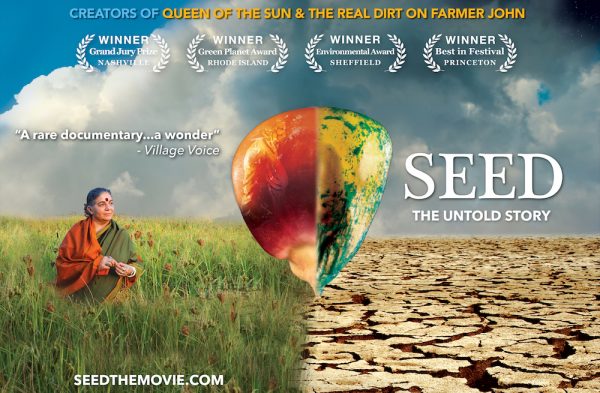 For tickets and more information, visit seedthemovie.com/portland.
Special thanks to Oregon Film and Friends of Portland Community Gardens for partnering with SEED for the Portland premiere.