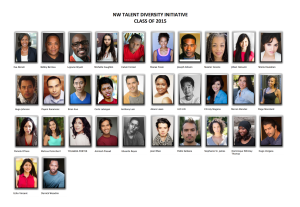 by Georgia Luke
Last year, Cast Iron Studios and TNT–along with Act Now Studio and Scott Rogers Studios–hosted the first Northwest Talent Diversity Initiative. The 36-hour intensive acting course gave 32 performers of color the opportunity to hone their chops with two of Portland's finest acting coaches and a myriad of guest speakers, at no cost to the actors.
Within weeks of graduation, the Class of 2015 began reporting an increase in their callback and booking rates on film, television, web and commercial projects. Cast Iron Studios therefore set out to repeat the initiative this year.
TNT agreed to return as the program's main financial partner, thanks to Manager of Casting Alexis Booth, allowing Cast Iron Studios to send 32 new actors through the intensive this fall.
Acting coaches Kristina Haddad of the Actor's Lab, and Ben Newman of Portland Actors Conservatory–both experienced performers in their own right–will be leading two classes composed of 16 actors each.
The success of the program also garnered the attention of the Portland Film Office and the Governor's Office of Film and Television, who both stepped up to provide additional funding to bring last year's graduates back for an intermediate class. Sixteen students will be returning this fall to undertake 36 more hours of training, under the tutelage of coaches Jana Lee Hamblin and Scott Rogers.
Participating actors were nominated by their agents as committed and talented individuals who would benefit from the initiative.
In-kind sponsors this year include The August Wilson Red Door Project, Artists Repertory Theatre and Teatro Milagro, without whose assistance this initiative would not be possible.