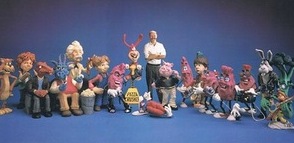 Celebrate the pioneer of Claymation and the film industry icon Will Vinton as he receives a lifetime achievement award. Special Q&A with Vinton on his career and impact on the industry.
Academy Award Winning Short, "Closed Mondays," celebrating its 40th anniversary will be screened before the feature.
In this claymation film, celebrated author Mark Twain (James Whitmore), displeased with the state of humanity, sets off in a hot-air balloon to meet his celestial destiny: Halley's Comet. Stowed away on the craft are beloved characters from Twain's stories — Tom Sawyer (Chris Ritchie), Becky Thatcher (Michele Mariana) and Huckleberry Finn (Gary Krug). As Twain's balloon ascends ever higher to its ultimate goal, his literary creations try to persuade him of the essential goodness of man.
Tickets here.
Thursday, September 3rd @ 4pm
McMenamins Mission Theater – 1624 NW Glisan, Portland