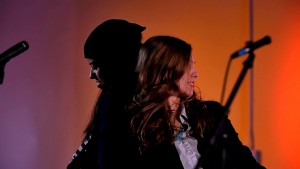 https://www.facebook.com/events/1607507789466434/
Lower Boom is a new Portland-based micro-budget film studio, talent incubator, and Film Discovery platform developer, and they are having a launch party this Monday, April 13th, at Dig a Pony (736 SE Grand).
They are going to screen their inaugural project, the short film LETTER B, a fictionalized recreation of the Beatle's documentary Let It Be, with an all-female cast as the band, and will also highlight their upcoming projects.
In addition, they will unveil the design prototypes for their Discovery app. The app gives users a new way to discover films, stories and videos, as well as providing the opportunity and infrastructure to support exciting new storytellers.
Lower Boom seeks to become a beacon for filmmakers and storytellers in Portland, and engage stakeholders at all levels of the local film production economy, building community and creating jobs through developing, financing, distributing and marketing films and other storytelling formats, and creating a Discovery platform for storytellers around the world to use.