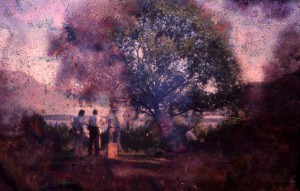 Horrorism for Beginners, Beginners for Horrorism   Visiting Artists OJOBOCA
April 17 / 7:30 PM
Clinton Street Theater / 2522 SE Clinton St / $8 Suggested Donation
Artists-in-Attendance.   In this one-night program, Berlin-based OJOBOCA (Anja Dornieden and Juan David Gonzalez Monroy) will present a selection of 16mm films and projector performances that demonstrates the collective's practice of Horrorism, "a simulated method of inner and outer transformation." OJOBOCA's films and performances are as rich in visual and sensory texture as they are in drawing upon and inspiring an imaginative and creative spirit. Taking place 3000 years in the future and featuring a cast of jungle-dwelling gnomes, "La Gente Perra" is a film based on fragments of a story by the Colombian writer, Gomati D. Wahn. The collective's penchant for representing phantasmagoric stories and images continues with "Wolkenschatten," a narrated slideshow composed of remnant images that eerily document the mysterious disappearance of an entire German town in the 1980s. The program concludes with two projection performances and will be followed by a conversation with the artists.
For more information about the screening, please go to http://cinemaproject.org/screenings/spring/2015/ojoboca/
Filmmakers Juan David Gonzalez Monroy and Anja Dornieden will also be conducting a workshop at the Northwest Film Center's School of Film on Sunday April 19th. In this workshop students will use flashlights and color print film to learn to copy Super 8mm, 16mm, and 35mm negative or positive footage onto 16mm, frame by frame. The will also imprint the shapes of diverse materials (such as crystals, color gels, fabric, stencils etc.) to create 16mm photograms.
For more information about the workshop, please go to http://www.nwfilm.org/school/classes/term/282/