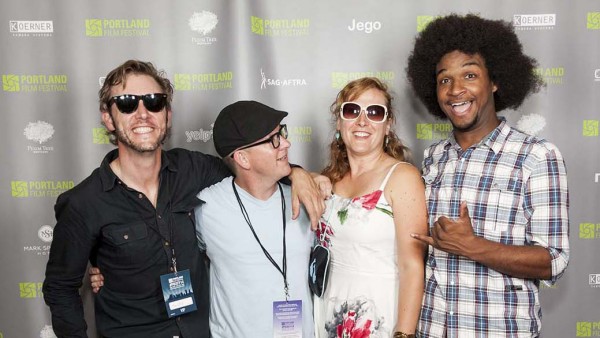 Filmmakers, it's the moment you've all been waiting for. The Portland Film Festival is looking for some good films with compelling stories for submission. Do you have any suggestions? Please submit your narrative features, documentaries, shorts of all kinds, transmedia, web series, student films and more.
MovieMaker Magazine named our festival one of the "25 coolest film festivals in the world," so get your submission in before time runs out. And we hope to see you in September. Portland is an amazing city during the summer—you'll not want to miss what we're planning this year.
The 2015 Portland Film Festival (September 1-7, 2015) is now accepting submissions online through:
There are rules and regulations to remember (no smoke signals, we need to see these films in person). For all the fine print, including awards eligibility—Golden Axe Award and many more—prizes (PDXFF offers over $25K in cash and prize awards), technical specs, full deadline schedule, festival history, and more, please visit the submission platforms listed above and read carefully.
Past attendees and alumni include Eli Roth, Justin Long, Haley Joel Osment, Abby Elliott, Chris Williams, Chuck Palahniuk, Jason Mamoa, Doug Benson, Wendy Froud, Brian Froud, Toby Froud, Penny Lane, Chelsea Cain, Daniel Wilson, Chelsey Reist, Isaac Feder, James Franco, Lorenza Izzo, Matt Walsh, Susan Sarandon, Michael Tully, Ryan Murdock, Kelly Reichardt, Kris Kaczor, Bryan Storkel, Leah Warshawski, Daryl Hannah, Vivian Norris, Karney Hatch, Jon Matthews, Dana Nachman, Mitchell Jackson, John Jeffcoat, Shawn Telford, Leah Meyerhoff, Mark Raso, David Zellner, Bradley King and more.
Oh and did we mention that we are partnering with a local Forestry Club to bring axe throwing to our event lineup? Submit! Remember to tag any social media mentions with #pdxff15
More info at the Portland Film Festival website located at portlandfilmfestival.com