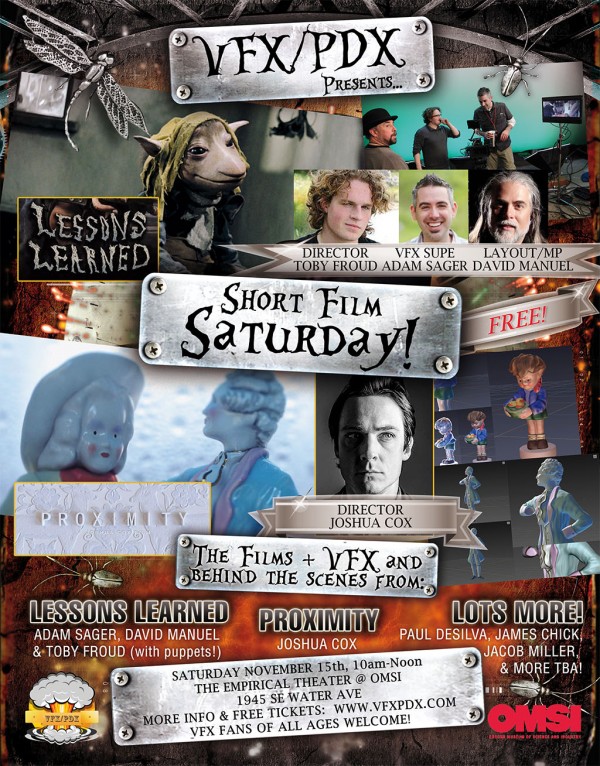 The Portland area visual effects and animation user group, VFX/PDX, has a special program on tap for the upcoming user group meeting on November 15th.  A little something called "Short Film Saturday!"  It's been a prolific year for eye-popping short films in the area, and this show promises an in-depth look behind the scenes at the visual effects and other wizardry from this year's crop.  Headlining will be Toby Froud's Lesson's Learned (presented with VFX artists Adam Sager and David Manuel) and  Joshua Cox's Proximity.  Both have been making the rounds at film festivals, and it'll be great to see these films in the context of a user group meeting – where these gifted visual storytellers are encouraged to nerd out about the tech and the production decisions made every step of the way.  A unique screening experience, for sure!   Worth noting – the puppets from Lesson's Learned will be on display.
Several other films round out the program:
Kameron Gates/House Special, A Tale of Momentum and Inertia
Paul DeSilva, A Spark at Darkest Night
James Chick, Legend of Baby Chick
Jacob Miller's Conception Trailer
with more TBA
The giant Empirical Theater screen at OMSI makes for a picture perfect platform, and everyone attending is encouraged to stay after and check out the current Animation exhibit (OMSI is offering a $2 discounted admission to the museum for user group attendees).  Bring the kids – this one is most definitely open to visual effects/animation fans of all ages, and all of our meetings are always open to the public.  Admission is FREE and tickets can be reserved at:
http://shortfilmsaturday.eventbrite.com
More info:  www.vfxpdx.com
See you there!
VFX/PDX Meeting:  Short Film Saturday!
Saturday, November 15th, 10am-12pm
OMSI Empirical Theater
1945 SE Water Ave, Portland, OR 97214