In the spirit of acknowledging our current industry as 'standing on the shoulders of giants', its important to note the contributions of Oregon's first independent filmmakers. Anne Richardson has done an exceptional job of this, sharing her research, most recently in a series of screenings at the Hollywood Theater. (http://midcenturyoregongenius.wordpress.com/)
This Wednesday, Nov. 5 at 5:00 PM, she presents a talk at the U of O Knight Library prior to Dennis Nyback's presentation of Harry Smith's "Heaven and Earth Magic" at the Schnitzer Museum at 7:00 PM. (See poster enclosed for details.)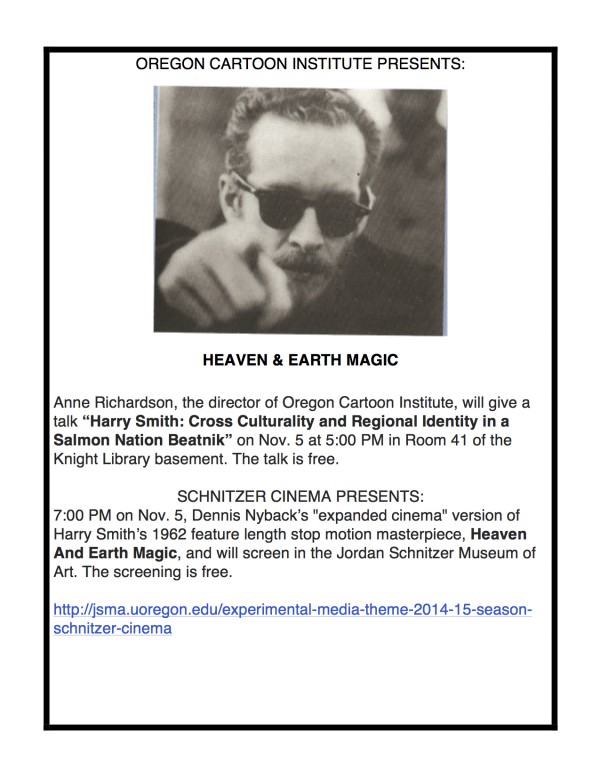 I'll never forget a conversation with former Oregon Film Commissioner David Woolson and prolific Oregon Author Rick Steber years ago when we discussed the literary works of Ken Kesey, Don Berry, and others, trying to define the undefined 'literary voice of Oregon and the greater Northwest', especially through film.
It wasn't until years later when Anne and I had coffee, that I realized she had keen answers to this question in her theory about this 'voice' being more than influenced by 'cross-culturality'. She recently set up a meeting with myself and 3-time Academy Award nominee James Ivory from Klamath falls, where I discussed with him the cultural influences of the Klamath/Modoc Indian Reservation on my screenplay "Blanket of the Sun'. "It had to influence us both", I said, in parting.
Please join me in learning more about Harry Smith this Wednesday at Knight Library and at the Schnitzer Museum. With the help of Anne Richardson and Dennis Nyback, no doubt we will keep this conversation going in defining the voice of Oregon film and literature!