Join us for a night dedicated to all things imagination as Cooper Johnson & his crew at Cardboard Castle will guide us through inspiration laden breakdowns of their recent work.  Also on hand will be Damon Redmond (Art Director at SuperGenius by day/instructor at CCC by night) and DMC department Director Andy Mingo from Clackamas Community College, both strapped with a loaded Motion Capture setup, with intent to demo it!  There are some lively things happening down at CCC, which will be undeniably clear after seeing the tech in action.
All bundled up within the framework of a OMSI Science Pub night (which needs no intro) and, with the Crystal Ballroom as the venue, all signs point towards the makings of an incredible evening.  Come watch the pixels fly!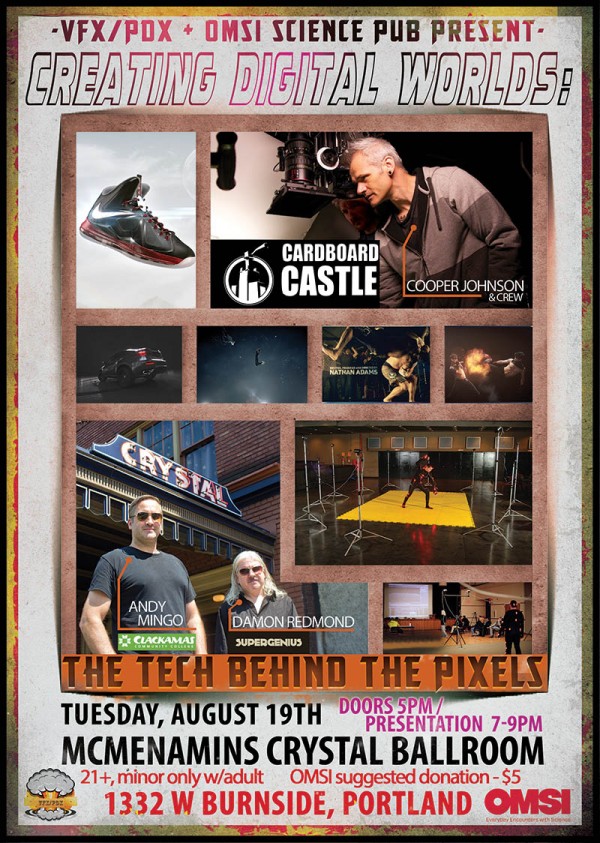 Tuesday, August 19th
Doors 5pm, Presentation 7-9pm
McMenamins Crystal Ballroom
1332 W Burnside, Portland
Age 21+, minor with adult
OMSI suggested donation:  $5
More info at vfxpdx.com and an extended blurb over at the OMSI website.