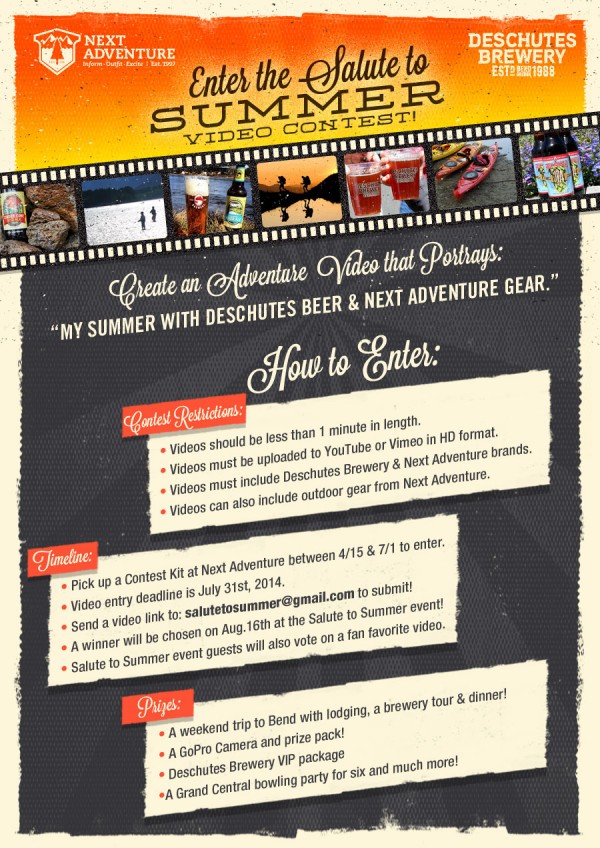 Next Adventure, Deschutes Brewery and Grand Central are holding a video contest for the Deschutes Salute to Summer event in August and want to spread the word!
Submit a one minute video of Your Summer with Next Adventure Gear and Deschutes Beer and your video could be chosen to play at the event with the grand prize opportunity of a VIP weekend to Bend, OR and a GoPro! The deadline for entry has been extended to August 10th! See further details below.
TO ENTER:
-Submit a 1 minute video of your Summer Adventure by sending a link of your video to [email protected]
-Include Deschutes Brewery beer and Next Adventure gear in some way
-*NEW* entry deadline: August 10th
-More info: www.thegrandcentralbowl.com/grand_central/promotions/salutetosummer
THE SHOW:
At the Salute to Summer Event on August 15th over 500 people will watch the top videos on over 20 TVs at Grand Central including four 16ft projection screens! The crowd votes for their favorite, therefore, the more friends you bring…the better chance you have of winning!
Facebook Event Page: www.facebook.com/events/1487237778159357/
THE PRIZES:
Here's the good stuff!
-VIP Weekend Trip to Bend: Lodging, Brewery Tour, Dinner, Deschutes swag
-GoPro Camera
-Grand Central Gift Card
-Next Adventure Gear
Email salutet[email protected] with questions, show us your Summer Adventure!
Lexy Garbarino
Events & Promotions Manager
Grand Central Restaurant & Bowling Lounge |Concept Entertainment
lgar[email protected] |[email protected]
O: 503.231.1926 | C: 503.866.8760 | F: 5032926.9308
829 SE 9th Avenue | Portland, OR 97214