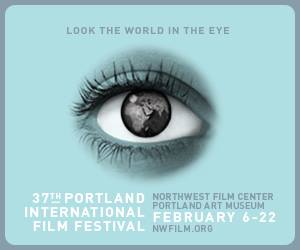 The 37th Portland International Film Festival kicks off on February 6 with a host of great films from around the world, a special "Oregon Shorts" night featuring the newest project from acclaimed director Irene Taylor Brodsky, and great new venues including OMSI's new Empirical Theater.
The Oregon Filmmaker Showcase will feature pieces from Vanessa Renwick, Joanna Priestley, Kimberly Warner, Sal Strom, Rachelle Sarfati, Pam Minty, Stephanie Hough, and of course Irene Taylor Brodsky.  The program is on February 11 at the Whitsell Auditorium.  Prior to the screening will be a reception honoring these talented local filmmakers.
This year's opening night is actually a multi-venue event with screenings at Cinema 21 and OMSI.  The opening night party will take place at OMSI's fantastic Theory Eatery.
Be sure to check it all out!