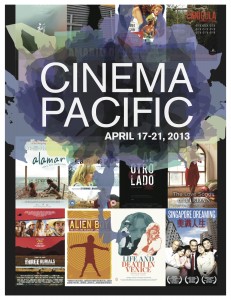 When Richard Herskowitz started Cinema Pacific he conciously decided not to call it a film festival so that a wide array of events could be included.  This year's version of Cinema Pacific is taking that concept to a new level.
One event that is sure to have some thoughtful discussion is the presentation on Open Space Documentary.  Helen Di Michiel and Patricia Zimmerman will be discussing examples of media organizations and projects that exemplify the spirit of open space documentary.  One of Helen's projects Lunch, Love, Community is worth checking out.
One of the more popular aspects of Cinema Pacific is the Adrenaline Film Project.  On Wednesday, April 17, twelve teams of filmmakers will be assigned a genre and given a line of dialogue and prop to be incorporated into their productions. For the next seventy-two hours, they will pitch, write, shoot, and edit their films, turning them in at 5:00 p.m. on Saturday, April 20. The mentors who guide them through the seventy-two-hour process (directors Rom Alejandro and Omar Naim and acting coach Leigh Kilton-Smith) will host the films' premieres, and the assembled crowd will vote for an Audience Award. A jury of film professionals will also give one film its top prize, the Kalb Award, and the mentors will select a third prize winner.  Following the screening is the celebratory Adrenaline Afterparty, featuring music and refreshments in the Jordan Schnitzer Museum of Art.
Finally you should also check out this year's Fringe Festival Fiesta on April 19.  Interactive Digital Pinatas, video re-mixes of classic Mexican cinema, and the ever popular "Inflato-Globe"; what more can you ask for?