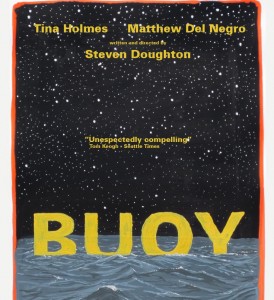 (Portland, OR) BUOY, a local and independent feature written and directed by Steven Doughton and starring Tina Holmes (Six Feet Under, Shelter, Leverage) and Matthew Del Negro (The Sopranos, The West Wing, Chelsea Walls) begins its theatrical release at The Hollywood Theatre, November 28 through December 3, 2012
Synopsis: A woman receives a telephone call from her long-lost brother — reconnecting with the central, though neglected, emotional anchor in her life. In the span of an 80- minute conversation, the two siblings test the strength of a deep, if challenged, love.
Praise for BUOY:
"Yasujiro Ozu ("Tokyo Story") also comes to mind while watching Steven Doughton's unexpectedly compelling "Buoy." The Portland director's understated formalism nicely balances roller-coaster emotions in a story about a depressed mom who receives a surprise phone call from her estranged brother"

-Tom Keogh – Seattle Times
BUOY premiered this fall at Seattle's Local Sightings Festival at the Northwest Film Forum where it was nominated for two awards and will make its Portland debut as part of The 39th Annual Northwest Filmmakers' Festival in November, 2012. BUOY is a product of Portland's burgeoning indie film scene, and showcases an array of local talent including co-executive producer Jonathan Raymond (writer of critically acclaimed films Old Joy, Wendy And Lucy, Meek's Cutoff and the HBO mini-series Mildred Pierce), producers Ike Martin (Afterall Productions) Kevin Sullivan (Portlandia) David Allen Cress (Paranoid Park, Restless, Portlandia) editor Lindsay Utz (Bully) and music by Ben Darwish. Additional post work was done at Mission Control and Digital One. The movie has received positive reviews in The Seattle Times and The Stranger.
BUOY will continue its limited theatrical run through 2013 and will soon be available on DVD through Amazon.com
Additional links:
http://hollywoodtheatre.org/buoy/