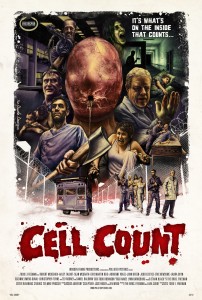 FILMBUFF TAKES ON "CELL COUNT"
Sci-Fi Thriller to be released on digital platforms November, 2012
(New York, NY – July 27, 2012) FilmBuff has come onboard to digitally distribute the sci-fi horror film festival favorite, Cell Count from filmmaker Todd E. Freeman (Two Fisted and Pray for Hell), starring Robert McKeehen ("Leverage"), Haley Talbot ("Grimm"), Ted Rooney ("Boardwalk Empire") and Daniel Baldwin (Grey Gardens).
The film, which had its world premiere at the 2012 Fantaspoa Film Festival in Brazil, is the story of Russell Carpenter, a man who reluctantly admits his wife Sadie into an experimental treatment facility for her life-threatening disease. While locked in this prison-like surrounding, they along with 6 others are unknowingly subjected to a cure that might just be worse than the disease itself.
Cell Count is co-produced by Polluted Pictures (The Weather Outside) and Wooden Frame Productions (Wake Before I Die). It will next screen at the Macabro Film Festival in August as well as the Sitges Film Festival and Celluloid Screams in October. FilmBuff will release the film across digital platforms in November.
Roz Lichter brokered the deal on behalf of Executive Producers Roger and Jen Wood and Producers Jason and Todd Freeman with Steve Beckman, Head of Acquisitions for FilmBuff.