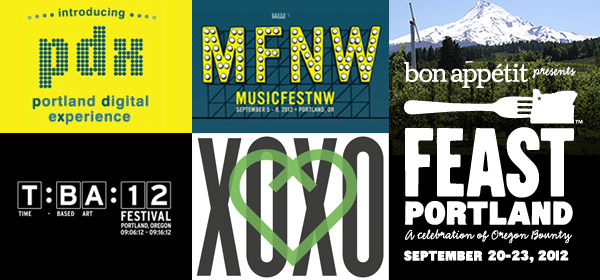 Almost everyone knows that Oregon's weather is at its best in the months of July, August and September and as a result there are many events programmed in those months designed to get people outside and also designed to get people to travel to our great state.  In September there are wall to wall events now programmed for anyone that enjoys good music, cutting edge contemporary art, innovative and creative thinking, and of course world class food and drink.  These cluster of events are all on the rise and worthy of a quick breakdown so you don't miss a great experience here in Oregon.
Musicfest NW – Musicfest is set to kick off its 12th year September 5-9 with a great line up so much so that I'd rather refer to this link so you don't miss on all the bands set to perform.  MFNW's venues will be throughout Portland including an outdoor venue at Pioneer Square.  You won't want to miss all the great live music!
Portland Digital Experience – This year MFNW has decided to extend its format to include an event focused on technology, startups, and digital creativity called PDX.  The event, held September 6-8, will focus on individuals who exemplify an "attention to detail, creativity, and the craft of building compelling experiences." Among the confirmed speakers are Aaron Draplin of Draplin Design Co., Evan Doll of Flipboard, James Keller of Walmart Labs, Lindsay Jo Holmes of MapleXO, Chris Teso of Chirpify, Larry Crane of Jackpot Recording Studios, Maggie Vail of CASH Music, Jared Mees of Tender Loving Empire, Christopher Kirkley of Sahel Sounds, and Andrew McLaughlin of Tumblr.  Knowing Rick Turoczy who is programming the event, there are sure to be more surprises coming.
XOXO Festival – Are you one who has used Kickstarter to get a project funded?  Well then whether you know it or not, you have Andy Baio to thank for his good work.  The former CTO of Kickstarter and popular blogger Andy Baio and Andy McMillan have created the XOXO festival which has now been completely funded through Kickstarter!  The two exceeded their funding goal in a matter of 50 hours.  The festival, due to happen September 13-16, at a 30,000 foot level is a celebration of disruptive creativity.  Do you know what that means?  If you don't, you better because amazing projects are popping up all over the world outside the traditional creative outlets.  Andy and Andy have a great line up but there is one piece of bad news.  The conference tickets are sold out!  No worries though there are still ways to be involved with the festival including a public market September 15-16.
Time Based Art Festival – TBA is set to host its 10th annual festival September 6-12.  The event features artists from all over the world for a convergence of contemporary performance and visual art.  More details on the event are due to be out soon but be sure to check out the past year's events to get an idea of what TBA has to offer!
Feast Portland – For those who live in Oregon or have been to Oregon, we have needed a world class food festival for a very long time!  Well in comes Fest Portland September 20-23.  Feast will be celebrating all things food and drink both with chefs from Oregon and chefs from all over.  What is great is that the festival's mission:
At the heart of the festival is a mission to end childhood hunger in Oregon and in our country. A state where food is so plentiful should not also rank as one of the hungriest in the nation. This is part of the three-day dynamic exchange of ideas, inspiration and dialogue that Feast Portland will create with food enthusiasts from Oregon, across the U.S. and around the globe.
So be sure to eat well and be entertained here in September!  You won't want to miss out.