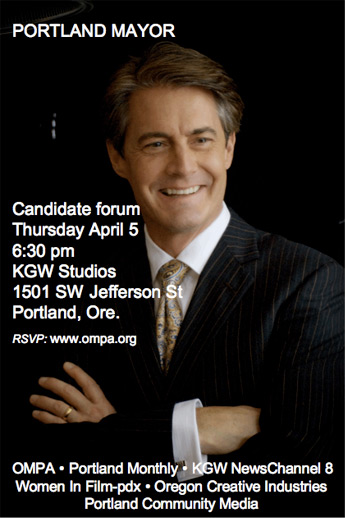 This Thursday at 6:30 pm at KGW (1501 SW Jefferson St in Portland): A forum with candidates for Portland Mayor that is *by* and *for* commercial, film, TV and interactive workers! Eileen Brady, Charlie Hales and Jefferson Smith discuss how they will foster local film, television, interactive, commercial, and mobile media ventures as Portland's next Mayor.
Industry members — including crew, actors, producers, vendors, and post production shops — are encouraged to come and show support for our creative community, while getting to know more about the candidates to be the next mayor of Portland! These top candidates are making a huge commitment to our industry to go on record and address the topics of permitting, economic policy, and advocacy for industry growth. They deserve attendance from everyone in our industry. Please join us. RSVP at www.ompa.org.
Moderated by Zach Dundas, senior editor of Portland Monthly Magazine. Location hosted by KGW NewsChannel 8, for later broadcast by Portland Community Media. Presented by OMPA and Portland Monthly with Portland Community Media, Women in Film, Oregon Creative Industries and KGW NewsChannel 8.
This event is open to the public but seating is limited.
** R.S.V.P. at www.ompa.org/events **