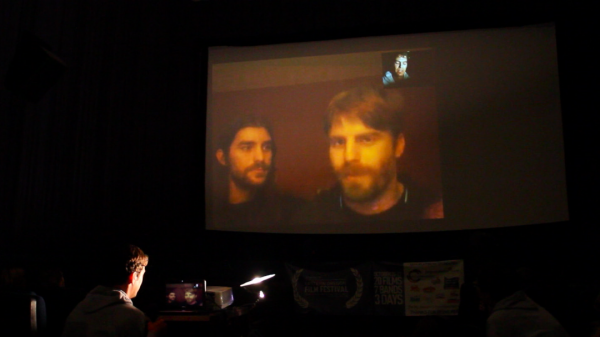 La Grande, OR- Eastern Oregon Film Festival awards five filmmakers with this year's honors. Bellflower and Dragonslayer received Best Film nods in the narrative and documentary categories, respectively. Cirkus Columbia, and short, Summer Snapshot won audience choice awards. And Bad Fever director, Dustin Guy Defa, was recognized for his 'Innovation in Directing'.
Now in its third year, EOFF continues to grow at an impressive clip. Attendance increased by almost 30% this year and community support has grown exponentially. With numerous film premieres, filmmaker Q&As, and raging afterparties with some of the hottest bands in the region, EOFF is quickly gaining a reputation as one of the best weekends on the Northwest calendar. "It's a tall order to cram 20 films and 8 bands into 3 days," said EOFF Board President, Chris Jennings. "But we all had a good time trying."
This small, artist-friendly festival serves up quite a slate of award-winning films, including a wonderful array of Oregon, Northwest, and even West Coast premieres (i.e. films that have never screened in these regions). Festival goers are also given a unique opportunity to engage with numerous filmmakers who were at the festival to facilitate Q&As in person. One of them, Jon Foy, came from Philadelphia to kick off the NW Premiere of his Sundance-award-winning documentary, Resurrect Dead. And several others, including hot up-and-comers, Evan Glodell, Tristan Patterson, Sophia Takal, and Dustin Guy Defa, participated in Q&As via Skype.
Jury awards were given to the best narrative and documentary features, as well as a Special Mention for a powerful small independent film that caught everyone's attention:
Bellflower – 2011 WINNER Best Narrative Feature
DIRECTOR: Evan Glodell
Dragonslayer – 2011 WINNER Best Documentary Feature
DIRECTOR: Tristan Patterson
Dustin Guy Defa, Bad Fever — Innovation in Directing
It was a close race for Audience awards:
Cirkus Columbia – Audience Choice, Best Feature Film
DIRECTOR: Danis Tanovic
Summer Snapshot – Audience Choice, Best Short Film
DIRECTOR: Ian McCluskey
The Eastern Oregon Film Festival owes its success to the incredibly generous and supportive communities of artists and patrons that fuel the event. This year's fest proved that 2010's leap was no aberration. EOFF continues to grow in size and scope, and appears to be here to stay.
For photos, video, Skype interviews, and more visit the website: www.eofilmfest.com or find us on Facebook.