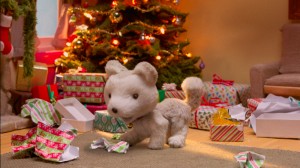 Bent Image Lab, the animation studio behind many successful commercials, music videos, shorts, and visual effects projects is now co-producing long format content for television. "Jingle All the Way", a stop motion animated show for Hallmark Channel is Bent's first endeavor into long form animation. Airing November 25th as part of Hallmark Channel's "Countdown to Christmas", "Jingle All the Way" is based off of an original storybook from Hallmark. The show was directed by Bent partner Chel White, produced by Bent's Executive Producer Tsui Ling Toomer and executively produced by Bent Partner Ray Di Carlo and Hallmark's Jodi Schade, Diana Stuart, Chad Harris, and Shawn McClaren.
The story is about a sweet Husky pup who is in need of a home. At a Christmas tree farm, he meets a boy named Andrew who gives him the name of Jingle since he loves the sound of jingle bells. The two instantly connect, but Andrew is unable to keep Jingle and drives away with his family. Jingle embarks on a journey to find his friend and along the way meets up with a wise cardinal, a determined dog catcher and a jolly man in a red suit who help him on his journey.
Shooting began in May with post production concluding in September. "Bent invested their own personal care into it and that makes a big difference," says Kevin Swanson, Senior Art Director for Hallmark Gift Books. "These folks really understand Jingle's world and acted like this was not just another job."
Bent's first experience in co-producing long form programming coincides with the first time Hallmark has brought one of its original characters to life. Jingle, a Hallmark interactive plush doll, is sold with its own storybook in Hallmark stores. When the story is read aloud (either by a real person or via a narrator from the Jingle interactive app) the Jingle plush doll reacts, barking and singing as Jingle does in the story.  "The ability for a parent or loved one to sit down and read this book [to kids] and have the dog respond to their voice…that was a great idea," says Chad Harris Hallmark's Senior Vice President of Integrated Marketing and New Media and Jingle Executive Producer. "It's a magical personal experience and we started thinking …wouldn't it be amazing if we could bring this story to television?"
Bent, Hallmark and script writer Alan Neuwirth collaborated to flesh out the story and visually develop the book into a 22 minute special. "When we first started talking about the Jingle project I loved the idea of directing something that had a childhood sweetness to it," says White. "I also saw the potential of a great story with endearing characters that viewers could truly care about."
Produced in stop motion, the production also relied on Bent's highly-skilled CGI/Visual FX department to complete the project. Bent's CG Supervisor Fred Ruff explains, "Production shot all the buildings that the [puppets] interact with on stage and we added atmospheric nuance and the set extensions. Our post department can take a street that is only 12 feet long and make it look 40 to 50 feet long." The production was able to utilize position point rendering passes to help with various compositing effects in Nuke. "What we are doing is actually using layers of data pixels instead of color pixels," says Ruff. "So instead of rending RGB for Red, Green and Blue we are actually storing X, Y and Z locations per pixel…when we composite we work with that layer data in 3D space and this gives us a lot more control." In a scene where Jingle sees the town of Pineville for the first time the crew needed a creative solution to turning the town's lights on at different moments. "We worked with our composite team to figure out how each light location would be handled, and when in the sequence to bring each area of lighting on," says Ruff. "We were able to do that really quickly in composite instead of trying to animate it in fully realized CG and re-render it every time. That's been really helpful for us." The crew used the node-based compositing program Nuke to defocus the shots adding more realism than the traditional Gaussian blur. "We used Nuke on this project because it was the best compositing tool for this job. It's really made for doing this deep compositing work where your burying a lot of different data into the pipeline and using it to get some things out on the other end," stated Ruff.
Bent's extensive experience in stop motion animation, innovative CG abilities and comprehensive 'under one roof' approach to production allowed them to finish in roughly 25 weeks.
"Today stop motion has the benefit of using both older analog and modern digital technology," says White. "The goal is to keep the wonderful hand-made quality but augment it in ways that accentuate the beauty."
"Jingle All the Way" airs Friday, November 25 (7 p.m. ET/PT, 6C) only on Hallmark Channel. Find more times and details at http://hallmarkchannel.com/