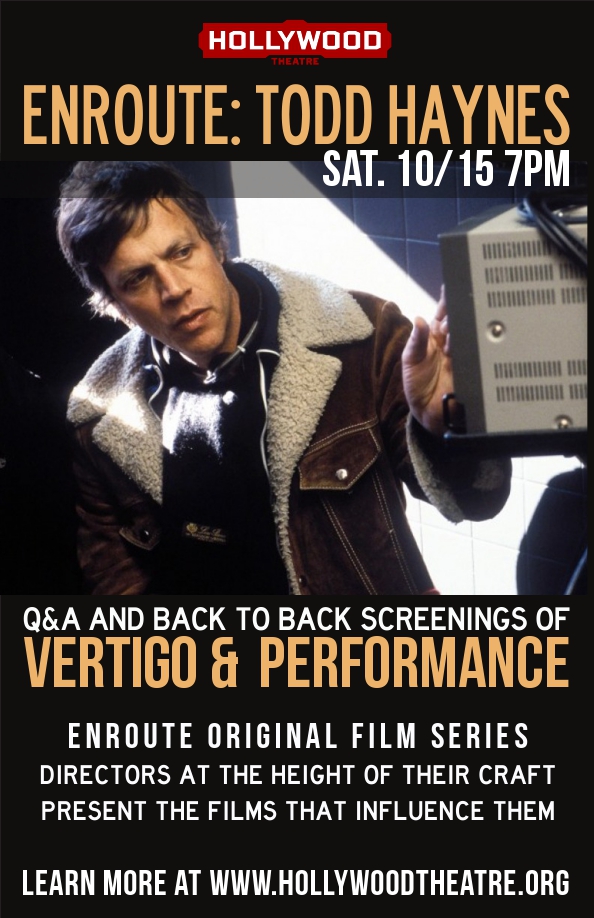 (Portland, OR) September 27, 2011 – Acclaimed filmmaker Todd Haynes invites you into his subversive and surprising cinematic universe for one night only with back to back screenings of "Vertigo" and "Performance" – two movies guaranteed to twist your cinematic sensibilities into knots presented on glorious, increasingly rare 35mm.  This evening with Haynes kicks off En Route, the Hollywood Theatre's new series featuring artists at the height of their craft presenting films that have influenced them.  Haynes will introduce each film and answer questions about his programming choices.
London gangsters, free love, identity tumult, rapid intercutting, and rock and roll all come together in "Performance," which features Mick Jagger in an eerily meta role.  "The only performance that makes it, that really makes it, is the one that achieves madness," Jagger's character proclaims, and the film takes this to heart.  Coupled with the shifting realities of Alfred Hitchcock's masterpiece "Vertigo," this double feature promises a rollercoaster ride into some of cinema's wildest places.
Most recently, Haynes has earned admiration for his work on the critically acclaimed TV series, "Mildred Pierce." Though, Haynes has been breaking new ground since his 1988 Barbie-acted short on Karen Carpenter.  His films run the gamut from the non-linear, sci-fi, queer feature "Poison," to his loving and meticulous homage to Douglas Sirk in "Far From Heaven."  Considered a defining figure in the New Queer Cinema movement, Haynes' work melds the brashness of John Waters with the photographic and historical precision of a Terrence Malick flick.  The opportunity to engage with him around these two important films is not to be missed!
WHEN: October 15 at 7pm. "Vertigo" plays at 7pm followed by "Performance" at 9:45pm. Haynes will intro each film.
WHERE: The Hollywood Theatre, 4122 NE Sandy Blvd.
TICKETS: $10 for both films.
About The Hollywood Theatre:
For the last 19 years the Hollywood Theatre (previously known as Film Action Oregon) has earned a national reputation for its unique combination of award-winning film programming, cutting edge educational programs supported in part by LAIKA (an Oscar winning studio), and fiscal sponsorship services for professional filmmakers. Each year the Hollywood Theatre screens close to 300 of the best films from all over the world, provides educational opportunities for over 2,000 young people and supports more than 20 Oregon-based, independent film projects.