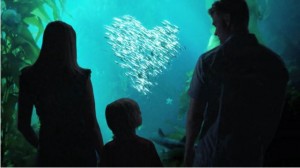 Oregon-based companies pride themselves on being amongst the first to leap beyond the established creative norms. And Fashionbuddha, an animation studio in Old Town Portland, thrives off this innate quest for innovation. "We're a unique studio from the standpoint that we have animation and interactive under the same roof," explains founder and Executive Director Robert Lewis.
This dual focus helped Fashionbuddha when they were hired by San Francisco agency Engine Company 1 to create promotional spots for the Monterey Bay Aquarium. Featuring the slogan: "Share the love," the concept was for animals to share tender moments – actions which, though enchanting, aren't part of the natural order. "The challenge was to make the creatures be convincing as real animals and yet make them do something they wouldn't normally do," says Lewis.
The entire article can be found on the Oregon Animation Blog or you can click here to read the article and watch the ad spots.