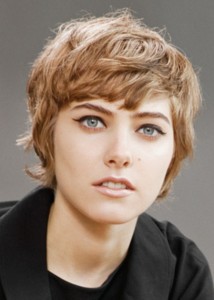 FOR IMMEDIATE RELEASE
MAIN CAST OF SUPERNATURAL THRILLER "NIGHTSCAPE" ANNOUNCED
Portland, Oregon—Writer-director David W. Edwards announced the main cast for his first feature film, Nightscape. The film stars, in alphabetical order: Emily Galesh, LaVerne Green, Joshua St. James and Jorge Madrid. The film shoots later this month in and around Portland.
In Nightscape, an emotionally guarded drifter, Kat (Galesh), crosses paths with a phantom car responsible for a wave of supernatural violence. The drifter must learn to trust again if she is to end a lifetime of bad luck and to help her newfound companions survive the growing chaos and carnage.
Emily Galesh is a Portland actor, model and musician whose most recent film, Rid of Me, received great reviews at this year's Tribeca Film Festival. "I was drawn to Nightscape because it's grounded in very real character moments," she said. "It isn't just a series of jump scares."
The remaining cast boasts a wealth of experience on stage and screen. Joshua St. James, who plays a down-and-out stock car racer, recently landed a guest-starring spot on the hit TNT television series, Leverage, and can be seen in the upcoming indie feature, American Disciples. Jorge Madrid, a mainstay of the Portland stage, has been a featured player in indie films like New Found Land and the award-winning short, La Orbita del Verano. He plays a tough, gun-slinging investigator of the occult. And LaVerne Green, who plays a strong-willed itinerant minister, has years of stage experience, including off- Broadway credits in A Raisin in the Sun and The Amen Corner.
"I'm pleased to have found such a talented local cast," said writer-director, Edwards. "The film's believability depends largely on fresh and honest performances, and I'm confident this cast will deliver."
Nightscape is produced by A.J. Gordon (The Truth), aided by associate producer, Keith C.A. Jones.
To find out more about Nightscape, visit www.nightscapemovie.com or contact us at the number below.
Contact:
Michelle Kennedy
Unit Publicity Agent
503.593.1660