Join us for a FREE screening of the short documentary that follows the grassroots movement to abolish nuclear weapons!  Details for the screening are below.
Check out the trailer for the film here:
http://www.youtube.com/watch?v=pnawUXqlfSU
5th ANNUAL S.U.R.G.E. FILM FESTIVAL: OFFICIAL SELECTION INCLUDES ANTI-NUCLEAR WEAPON DOCUMENTARY
The short documentary FREE WORLD is an official selection of the 5th Annual International Social Uprising, Resistance and Grassroots Encouragement (S.U.R.G.E.) Film Festival (www.WeSurge.org).
The film will debut on May 23, 2011 at 5.30pm at The Academy Theater, 7818 SE Stark Street, Portland, OR 97215.
FREE WORLD follows The Journey of Repentance, an 18-person, multi-generational, interfaith delegation from Washington State on their journey to Japan to interact with atomic bomb survivors and commemorate the 64th anniversaries of the bombings.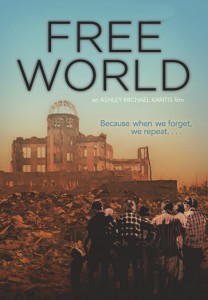 The delegation formed around 81-yr-old Jesuit priest Bill "Bix" Bichsel, S.J., who lives by the teachings of Dr. Martin Luther King, Jr. and Gandhi.  Prior to departing for Japan, the group was confronted by many Tacoma locals in opposition to the concept of the trip.
While in Japan, the Journey of Repentance met with key religious figures of the Nipponzan Myohoji Buddhist order and with Steven Leeper, a chairperson of the Hiroshima Peace Culture Foundation, to learn about grassroots and mainstream ways to abolish nuclear weapons.
The delegation's ultimate goal is to spread awareness of the nuclear weapon stockpile in the Puget Sound and to abolish nuclear weapons.
FREE WORLD Producer & Director Ashley Michael Karitis, who lives in Bend, OR, will have a post-screening Q&A conversation.
There is no charge for admission.  Special seating has been reserved for members of the media.
CONTACT INFORMATION
ASHLEY MICHAEL KARITIS
Producer & Director, FREE WORLD
Email: [email protected]
www.freeworlddocumentary.com
PLEASE CONTACT ASHLEY TO REVIEW THE FILM, SCHEDULE AN INTERVIEW, OR TO OBTAIN AN ELECTRONIC PRESS KIT, PRODUCTION STILL, OR VIDEO CLIP.