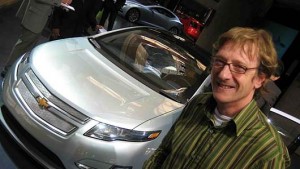 What a great opportunity, PSU's College of Fine and Performing Arts and PGE are hosting acclaimed director and electric vehicle (EV) enthusiast, Chris Paine for this public lecture on "how the new generation of cars are America's future: fast, furious, and cleaner than ever".
Paine is best known for his 2006 documentary Who Killed the Electric Car.  This year Paine has a new movie coming out, Revenge of the Electric Car, and in it he chronicles how every major car maker is clamoring to make new electric models as well as winning over the public.
The free screening of "Who Killed the Electric Car" will be shown before the lecture  and is open to the public:
room 115, 4:00-5:30 pm.
Chris Paine's lecture begins at 6:00 and ends around 7.30 p.m. (doors open at 5:30 p.m) January 27th at Portland State University's Lincoln Hall Theater (located at the corner of SW Broadway and SW Market St.)
Paine is also giving a keynote speech at EV Roadmap (registration is required for this event) January 28th, 12.15-1.15  at the Oregon Convention Center, and later at the Eco Center at the Portland International Auto Show signing autographs at PGE's booth between 6.70 and 7.30 PM.