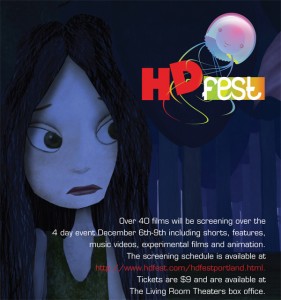 Past festival events have taken place in Sydney, New York, Los Angeles, Seoul, Chicago, London… and now PORTLAND!  HDFEST Portland is taking place December 6th-9th at the Living Room Theaters. Tickets are $9 and are available at the festival box office and through the web.
Details, trailers and schedule of features, shorts, music video, animations and experimental films screenings are now up. Over 40 films will be screened over the 4 days.  The complete festival schedule is available at http://www.hdfest.com/hdfestportland.html.
FILMS SHOT LOCALLY INCLUDE:
Not Dead Yet (Feature Film) screening December 8th at 7:15pm. Directed by Sam Hull, Written and Produced by Susan Hess Logeais. Not Dead Yet is a dramedy about life, hot flashes and profound re-awakenings. http://www.hdfest.com/HDmovies/not-dead-yet.html
The Presence (Feature Film) screening December 9th at 7:15pm. Directed by Tom Provost. The film, which was shot entirely in Mt. Hood, Oregon, was produced by Tom Rice and executive produced by Dan Myrick, creator and director of The Blair Witch Project. In this darkly romantic ghost story, a woman (Academy Award Winner Mira Sorvino) travels to an isolated cabin where she finds herself stalked by an apparition (Shane West, 'A Walk To Remember') who has come to inhabit her space as his own. With the unexpected arrival of the woman's boyfriend (Golden Globe nominee Justin Kirk, 'Weeds'), the dark spirit's haunting grows more obsessive. http://www.hdfest.com/HDmovies/presence.html
Salt and Silicone, in the "HD Comedy Films" sequence Wednesday December 8th at 9:30pm. Written, Directed and Produced by Warren Pereira, Produced by Aaron Kirk Douglas "A dark episodic comedy that explores one man's conflicting perspectives on breast augmentation." http://www.hdfest.com/HDmovies/salt-and-silicone.html
Sandwish in the "High-Definition Music Videos and Animation" sequence Tuesday December 7th at 9:30pm. Directed and Produced by Kate Reynolds and Erika Valenciana. Music video for the band Pink Martini. http://www.hdfest.com/HDmovies/sandwich.html
Benji & Mitzi in the "Exploring the Imagination" sequence Monday December 6th at 9:30pm. Directed by David Cohen. "Classy, live-loving Mitzi meets her estranged, depressive (and thin!) gay son, Benji, for a picnic in the woods." http://www.hdfest.com/HDmovies/benji-and-mitzi.html
One of HDFEST's key goals is to encourage independent high-definition filmmaking and enthusiasm for digital cinema. All films in the festival were shot exclusively on High-Definition cameras and are screened in HD resolution.