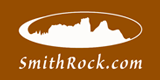 SmithRock.com
is an owner-run resource for people wanting to visit
Smith Rock State Park,
and pitches itself as, "an independent online guide for adventurers" that want to explore the park. For productions thinking of shooting at the Smith Rock State Park, you must first contact the park manager (at 541-548-7501) for all permit requests and questions about filming in the 650 acres that make up the park.
Marcia and Mike Volk
are the husband and wife team behind SmithRock.com.  They started their business 20 years ago offering resources for rock climbers and have since expanded the site to the "
250+ pages it is today, with the goal to "edutain"  their audience of 69,000 page views per month to give them a greater appreciation for this special place to keep it intact for generations to come.
Continue reading...

"SmithRock.Com – An Extra Resource For Filming At Smith Rock State Park"