---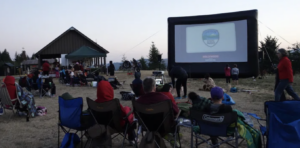 The Hollywood Theatre and Oregon State Parks join forces once again for Outdoor Movies in Oregon State Parks! Pack a picnic and bring your friends to a summer season of vintage blockbusters, paranormal thrillers, and cult favorites, screening under the stars at some of Oregon's most beautiful parks.
Outdoor Movies in Oregon State Parks are free to attend and no ticket is required. Screenings begin at dusk. Free day-use parking after 7 p.m.
Find the full schedule below and here, then pack up the picnic blankets and lawn chairs for a summer full of fun!
POLTERGEIST
Saturday, July 8 | Rooster Rock State Park–When a suburban family moves into a new house, they discover that it's haunted by mischievous spirits. The TV becomes a portal to the afterlife, toys come alive in terrifying ways, and the youngest daughter gets sucked into another dimension.
GALAXY QUEST

Saturday, July 15 | Stub Stewart State Park–When a group of washed-up actors are mistaken for real space heroes, they must navigate a universe of misadventures, awkward encounters, and existential crises. Featuring hilarious references, sly self-awareness, and—of course—Sigourney Weaver, GALAXY QUEST is a love letter to both sci-fi geeks and reluctant heroes everywhere.
E.T. THE EXTRA TERRESTRIAL

Saturday, July 29 | Milo McIver State Park–Experience the magic of Steven Spielberg's 1982 classic like you've never seen it before: Under the actual stars. After a gentle alien becomes stranded on Earth, he is discovered and befriended by a young boy named Elliott (Henry Thomas). Bringing the extraterrestrial into his suburban California house, Elliott introduces him to his brother and little sister (Drew Barrymore), and the children decide to keep his existence a secret.
ADDAMS FAMILY VALUES
Saturday, August 5 | Champoeg State Heritage Area–Join Morticia, Gomez, Wednesday, and the whole delightfully bizarre Addams clan in this rare sequel that's more beloved than the original. As they encounter a conniving nanny (played impeccably by the legendary Joan Cusack), summer camp shenanigans, and heartwarming surprises, this macabre comedy celebrates the beauty of being different