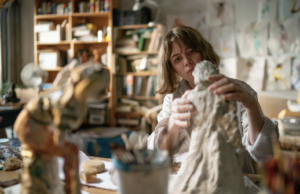 Kelly Reichardt's new #OregonMade feature "Showing Up" will be release by A24 in theaters in April. Michelle Williams plays a sculptor preparing to open a new show who must balance her creative life with the daily dramas of family and friends. It is a vibrant and captivatingly funny portrait of art and craft.
Time Magazine calls "Showing Up" "quietly extraordinary" and "a movie so fine-grained that you're almost not prepared for the subtle power of its ending—the story is brought to land, almost literally, with the beating of wings."
Filmed in Portland, "Showing Up" was produced by Oregon based production company FilmScience.