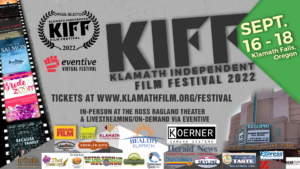 For the 10th anniversary of the annual Klamath Independent Film Festival (KIFF), exclusively showcasing made-in-Oregon films, a grand celebration will commence honoring arguably the greatest comedy film in history and shot on location in Oregon – National Lampoon's Animal House.
Taking place Sept. 16-18 at the Ross Ragland Theater in Klamath Falls and streaming online via Eventive, the film festival will feature over 30 films shot in Oregon or made by Oregon resident filmmakers, including several world premieres and multiple films made in the Klamath Basin. On-stage activities will be simultaneously livestreamed for online viewers and all films made available on- demand for a limited time.
Opening KIFF will be a street festival on Friday, Sept. 16 complete with food trucks and beer garden, presented as an Animal House-style toga party. Activities will include a making-of documentary, "Animal House of Blues," a special presentation by original National Lampoon's Animal House Casting Director Katherine Wilson, and a screening of the iconic film complete with toga costume contest and "shout!" dance-off on-stage. The evening will culminate with a cast reunion featuring multiple actors from the film. Attendees are strongly encouraged to dress up for the occasion in their best toga or college-related attire.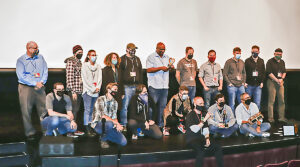 The festival will continue on Saturday, Sept. 17 highlighting selected feature-length films shot across the state, including a special panel discussion highlighting the Modoc Wars and Klamath Tribes surrounding two films made about the Modoc Wars – "Modoc Nation: An Untold Story of Survival," and a narrative short film shot near Tulelake last year, "This is Their Land." Saturday will culminate with a world premiere of a Klamath Falls-produced murder-mystery film, "Duplicity," with cast on hand for the screening.
Sunday programming will open with a K-12 student film showcase and short film selections, ending with an awards ceremony that includes $5,000 in cash prizes and custom-made awards by the
a non-profit 501(c)(3), tax ID 45-5455983 PO Box 1511, Klamath Falls, OR 97601 e-mail: [email protected] web: www.klamathfilm.org facebook: www.facebook.com/klamathfilm
Southern Cascade Woodcrafters Guild. The Woodcrafters Guild, comprised of master craftsmen in the Klamath Basin, for the third year in a row will produce one-of-a-kind art pieces carved out of native Oregon wood specific to each of the winning films in each category. Six awards will be distributed in total, divided geographically as northern and southern Oregon divisions among K-12 student films, short films (under 40 minutes in length), and feature films (over 40 minutes).
The festival has garnered a reputation as the premier Oregon-centric film fest, drawing filmmakers and film fans to the Klamath Basin from across the Pacific Northwest for a multi-day celebration of Oregon's diverse landscape and artistic endeavors. It features animation, documentaries, and narrative films spanning many genres. Additionally Klamath Falls last year was honored with a historic marker on the Oregon Film Trail in recognition of the film "Phoenix, Oregon" – made in Klamath Falls in 2018.
KIFF is produced annually by Klamath Film – a 501c3 nonprofit that promotes, inspires and supports filmmaking through programming, education, and outreach. Among its endeavors is an annual youth film camp, various film showcases throughout the calendar year, professional film equipment and liaison support for film crews interested in filming in the Klamath Basin, and the annual Klamath Independent Film Festival. The organization also hosts free monthly member meetings as networking opportunities that feature a Hollywood industry professional as featured guest each month, most recently Wilson regaling the participants with behind-the-scenes stories of the making of Animal House.
Tickets for KIFF vary from single-day passes for $25, weekend passes for $40, an online pass for $40, and a festival-wide pass including online livestreaming/on-demand access for $50. Tickets to the opening night street festival and Animal House toga party celebration are $15.
Tickets can be acquired in advance at www.klamathfilm.org/festival.