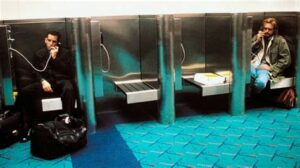 Bill Pullman plays Daryl Zero, the self-described "greatest private investigator in the world," with Ben Stiller as his lawyer side-kick trying to keep up with paramedic Kim Dickens. Portland plays a prominent role in this 1990's caper centered around Timber Baron Ryan O'Neal having "lost his keys" and worrying about the contents of a safe deposit box. This is the first film from director Jake Kasdan who started out his career in small roles on his Dad's (Lawrence) sets before moving on to films like "Walk Hard" and "Bad Teacher." You'll see Broadway double as Powell, Vista House become a planetarium, and the PDX Carpet in all of its delicious fanfare. And those reasons, on their own, should be enough for any dedicated #OregonMade film fan. Shown on 35mm print.
This screening is on March 16 and is free for Hollywood Theatre members!
Get more information and book your tickets here.