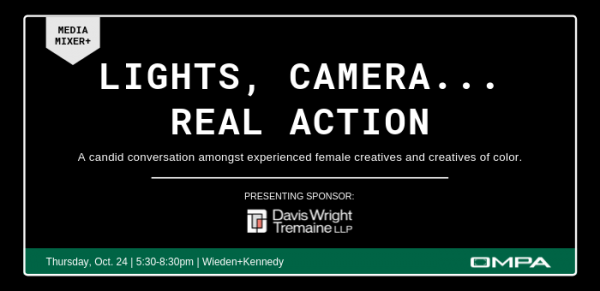 Join us for a special conversation moderated by Wieden+Kennedy Creative Producer Tiffany Golden on the unique hurdles and obstacles faced by women and people of color in the creative/production industry. Networking to follow. Food & drinks included.
Date: Thursday, October 24
Time: 5:30-8:30pm
Location: Wieden+Kennedy, 224 NW 13th Avenue, Portland, OR 97209
Cost: Free, but please RSVP
MORE DETAILS
In our continued efforts to foster a more diverse industry, we've realized that even with the best of intentions, many of the people we have come to revere have completely different hurdles and obstacles to navigating this industry. Any efforts to diversify need to take that into perspective.
So, on the evening of October 24th we will turn up the mic and give voice to those who are seasoned yet unseen. This discussion is like no other: you will leave with the truth, you will have actionable items to work with, and you will grow as a person.
Meet the discussion participants:
*Please read before registering: Getting real about diversity requires us to embrace discomfort. With that in mind, please read OMPA's Code of Conduct and commit to following it. 
---
MEET OUR EVENT SPONSOR
Davis Wright Tremaine LLP is a team of dedicated attorneys across eight locations (including Portland) who provide day-to-day legal support to streaming services, film studios, production companies, digital studios, documentarians, animation studios, video game publishers, and other content creators and distributors. DWT's team adjusts to fit your needs with the ability to provide all levels of service.