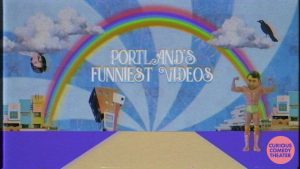 PORTLAND'S FUNNIEST VIDEO
What: A monthly showcase of comedy films and sketches
Where: Curious Comedy Theater, 5225 NE MLK BLVD, Portland, OR
When: Every Third Wednesday, 7:30 PM (May 15, June 19, July 18, August 21, September 18)
Cost: $5 Entry, Free Submission
Portland's Funniest Video is a monthly showcase of local and regional comedic films and sketches at Curious Comedy Theater. The showcase has been running for seven months and has already done a best of Vol 1.
The showcase is an hour of original scripted content (as opposed to home videos) that is generally under 7 minutes for each film.
Audience vote sends films into a best of showcase that happens every 5-6 months. Best of Volume 2 is slated for September 18 with a small panel of comedians and film industry judges.
Produced and hosted by Dusty McCord (Video Editor, Attack of the Flicks) and Actor, Director, Luke Zwanziger (Director of Video Production Curious Comedy, Ruby Peak Film Festival) the monthly showcase is meant to give filmmakers and comedians a goal to go make something. Watching video communally in a room on a big screen is much more fulfilling than uploading into the digital void. Curious Comedy recently upgraded their projector and screen to provide a 10'x12′ screen and projector allowing filmmakers to have their work shown properly.
If you are interested in seeing past winners or submitting a film go to: www.PortlandsFunniestVideo.com
Submissions are due by 8 PM Sunday before the showcase to be considered for that month and are accepted on a rolling basis. Preference given to filmmakers who can attend.
Press Coverage
BUY TICKETS HERE
For more information email [email protected]