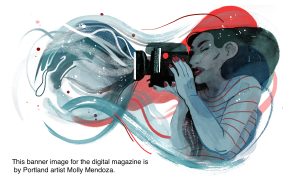 Doxx Magazine is a new digital publication dedicated to women documentarians. The online hub is a designated and creative place for the stories, work, and thoughts of female and non-binary nonfiction media makers. To enrich the local and national documentary communities, the magazine will archive filmmakers from Oregon and beyond.
Each issue will include interviews, profiles of historic documentary legends, field notes (submit here), industry-relevant articles, and a watch-list. A short teaser issue was launched last week, and includes conversations with Directors Lana Wilson (After Tiller, The Departure) and Amy Nicholson (Beauty School, Muskrat Lovely, The Zipper, Pickle). Content will be released monthly.
Please visit doxxmagazine.com and sign up to stay in the doxx loop. Email [email protected] if you'd like to contribute, comment, offer suggestions, or just to say hi.