Comic-Con screening follows national distribution for Oregon comics doc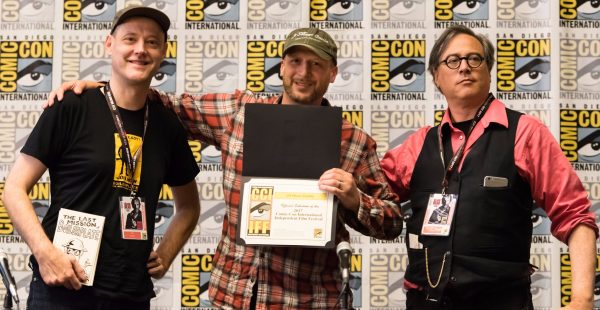 The biggest little indie feature doc in Oregon, 24 Hour Comic, screened at the San Diego Comic-Con International Independent Film Festival this July. Director Milan Erceg, whose film documents a marathon of comic book creation, says the recognition from Comic-Con film festival "is about the biggest honor we could have." Comic-Con founder Mike Towry, who attended the screening, said he found 24 Hour Comic "interesting and entertaining." Nat Gertler, who launched the first 24-hour comic day in 2004 which ultimately inspired Erceg's movie, also joined 24 Hour Comic filmmakers and cast members in San Diego to celebrate the film's acceptance at one of the world's most important pop culture festivals.
"We never would have guessed this little documentary would have the response and opportunities that it has had" says Erceg.
24 Hour Comic is currently available on iTunes and other VOD platforms. The doc's strong launch, with support from Dark Horse Comics, gave it early presence among iTunes "new and noteworthy" selections, as well as among those searching titles in art & design. A tremendous amount of positive reviews from Film International, Comic Crusaders and others haven't hurt the doc's sales. Reviews include:
• Willamette Week says 24 Hour Comic is "a privileged glimpse through an industry keyhole."
• Comics Worth Reading calls 24 Hour Comic "fascinating."
• The Weirding says "24 Hour Comic is excellent."
• Elias Savada at Film International says "24 Hour Comic offers an interesting look inside the creative minds of some of the disposable/collectible medium's brightest architects."
• Borg.com calls 24 Hour Comic "an honest look at creatives attempting to challenge themselves."
• Comic Crusaders says 24 Hour Comic is "a well made, well-informed, and on point… …Creatives from any industry would serve themselves well to watch this documentary", and calls it compulsory viewing "for those starting out and those still banging their heads against the wall in their forties."