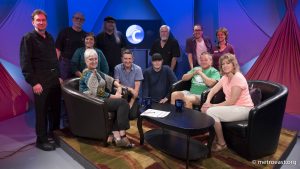 This June, MetroEast Community Media's staff-produced program, Community Hotline, will achieve a landmark. They will be making history on Wednesday, June 14, 2017, when they will tape the 1,000th episode of Community Hotline.
Started in 1996, Community Hotline is the longest running community affairs television show in Oregon and has been on the air for over 20 years. While it has undergone several significant changes in staffing, set design and distribution, it has held tight to the fundamental core of the programming, which is to inform and highlight community events, people and stories.
"Creating personalized programming for cable TV is something that gives a voice to everyone," explains Marty Jones, chief executive officer of MetroEast Community Media. "We empower people to craft their message, tell their story and contribute to the conversation. As such, they create relevant, impactful programming that shares their message. Community Hotline educates the public about services and resources available to them, offers opportunities to make a difference through volunteering, and helps the community rise up together."
In addition to offering equipment to the public, MetroEast also offers hands-on training in how to use the technology, as well as what makes a good, powerful story through thoughtful workshops and tutorials.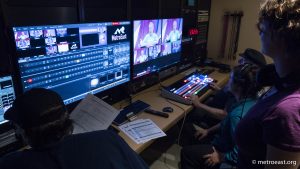 "What I enjoy is the diversity of programming," says long time host of Community Hotline Monica Weitzel. "It's been an absolute pleasure to work with the volunteers and resourceful clientele that create MetroEast's programming. There are young people, adults, people from all stations of life. And we all contribute and learn from one another. It's a never ending journey of learning and growing."
To further its mission to empower citizens through audio-visual media technology, MetroEast provides affordably priced classes on how to use the equipment. One recent innovation allows patrons to borrow digital media "backpack" kits containing an iPad, microphones, camera, lenses and editing software.
"We're essentially giving a voice to a lot of folks who may feel voiceless," Jones says. "In this digital age, where you can consume stories anywhere and at anytime, we want to allow people to be part of that conversation. And that's what programs like Community Hotline have been doing for 31 years. When we realized we were about to film our 1000th episode, we just thought, you know, this is something that deserves to be celebrated. This is historic."
Along with the celebrations for the 1000th episode of Community Hotline on June 14th, which will be shot in studio with a live studio audience (seating is limited to invited guests and RSVP is required), something they've never done before, Jones says his next big launch is to "make it easier for community businesses to join us as sponsors supporting quality hyper local programming like Community Hotline."
About:
MetroEast, whose offices and studios are at 829 N.E. Eighth St., near downtown Gresham, makes a wide array of community programming, technical equipment and instruction on how to use it, available to the public. With funding provided through an agreement with the Mt. Hood Cable Regulatory Commission, the organization serves Gresham, Troutdale, Fairview, Wood Village and unincorporated Multnomah County with six cable channels, three of which are devoted to citizen-generated programming. All programs are broadcast in SD and HD via Comcast and their xfinity platform.
Community Hotline is the longest running talk show for MetroEast and has been on air for over 20 years, and will celebrate the taping of it's 1000th episode on June 14th in front of a live studio audience and invite members of the crew, cast, classes, community and media to take part in the festivities, followed by a small party to celebrate.