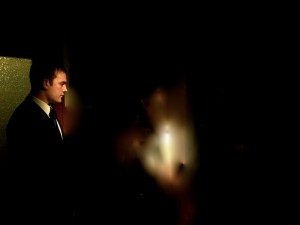 Local Portlander and Living Room Theater employee, Ryan Graves, is tackling his first feature film—"Emily." He's almost half-way through his crowd funding campaign for post production on Indiegogo. With a goal of 10k, at the time of writing, he is almost at a quarter way there.
Graves added, "we shot the entire film for $20k this past fall. That included paying and feeding everyone. We spent every waking hour on the film."
The feature follows and expands on his previous short film, "Mr. Right," which won Graves the Best Short Film Director Award at the 2014 Oregon Independent Film Festival. "Emily" is about a young married couple struggling to stay together after the husband suffers a crisis of faith. The wife struggles to hold their marriage together while her husband opens up for the first time in his life.
The film was written and directed by Graves, based on a short story written by Graves and Kelly McCrillis. McCrillis is also a producer on the film. The production was shot in and around Portland with all local cast and crew. The film stars Rachael Perrell Fosket ("Mr. Right" and "Grimm") and Michael Draper ("Finding Oblivion" and "Combat Report").
The crowd funding campaign ends on March 18, 2015 at 11:59pm at Indiegogo.
via portlandfilm.com