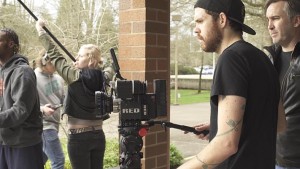 Portland Film Festival (September 1st – 7th, 2015) is partnering with Clackamas Community College's (CCC) Digital Media Communications (DMC) program for the 2015 festival season.
Led by director Andy Mingo, the DMC program has the led the state in film production experience in Oregon for its students. It is the only higher education program with state-of-the-art tools including Oculus Rift Virtual Reality devices and digital cinema cameras, like those used in locally produced, "Wild," with Reese Witherspoon.
The festival will host a block of the best films produced by DMC students during the festival in September. Students will also get the chance to attend the festival for networking, classes, film screenings and workshops. Faculty from CCC will host workshops including an advanced class for directors on visualizing and planning the use of motion capture systems, like the system used to create. "The Hobbit," "Avatar," and other graphic intensive worlds in film.
"One of the biggest hurdles when I was a student was getting my first film accepted into a festival.  After that it became like an addiction.  I had to improve my filmmaking in order to screen at bigger and better festivals.  We want our students to get hooked on an art and industry booming in Oregon, and in doing so develop the skills necessary to find employment."
Mingo added, "Students bring the vision and we supply the training and with the support of the Clackamas County Cable Division, the tools to make it happen at a community college tuition price."
Andy Mingo will also be stepping on the board of the festival, giving him and Clackamas Community College an important role in the independent film community and the future of the largest filmmaker's festival in Oregon.
Festival Executive Director, Josh Leake added, "The festival always looks for great partners. The Art Institute let us use their facilities last year. Even, one of our music video programmers was from Portland State—Dustin Morrow brought a great amount of depth and appreciation. So when Clackamas came to us about adding some of their talent to our schedule, it was an easy decision to make. Andy has really pushed the envelope and challenged other schools and the film industry to take notice."
via portlandfilm.com