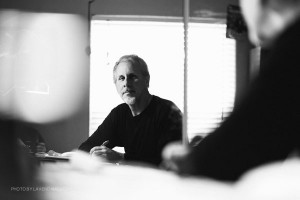 Randall Jahnson has been a professional screenwriter for 30 years. He has delivered scripts for both large and small screens; in both studio and independent realms; in genres ranging from horror to historical.
He has worked closely with such film-making talent as Steven Spielberg, Jonathan Demme, Alec Baldwin, Penelope Spheeris, and Spike Lee. Among his produced credits are The Doors, The Mask of Zorro, Sunset Strip, Dudes, and episodes of the HBO cable series, Tales from the Crypt.
He also wrote the epic Western video game, Gun, which was voted Best Story at the 2005 IGN Video Game Awards. Back in the 1980s he directed videos for punk rock and independent musicians including Henry Rollins, Black Flag, Stan Ridgway, and the Minutemen. Jahnson grew up in Carlsbad, California. He attended film school at the University of California, Los Angeles, graduating with a Bachelor of Arts degree in Motion Pictures and Television. He lives with his wife and son in the Portland, Oregon area.
What made you become a screenwriter?
I was aiming for a career in journalism (I wanted to write for Rolling Stone) when I took a playwriting class at my community college.  That opened my eyes to the world of drama.  But very few playwrights make a living practicing their craft so I started to investigate alternatives.  Art and photography, too, were interests of mine so film just seemed to be the medium where I could put all those elements to good use.  Plus, I loved the word "screenwriter" – it sounded very avant-garde to me!
Why Oregon?
Several factors:  I was feeling burned-out and uninspired in LA; the film business was changing in such a way that you could conduct it from almost anywhere; and my wife and I had a son whom we wanted to raise in a different environment.  So after considering Austin, Texas and Ashville, North Carolina for about five minutes we settled on Oregon.  And I had an instinct that Portland – with its nexus of music, graphic novels, art, food, film, and DIY culture – was going to be a very active locale in the coming post-Hollywood-new-digital-media landscape.  Portland also struck me as a city with a sense of whimsy – it doesn't take itself too seriously.  After decades of living in LA I found that incredibly refreshing.
Read more at portlandfilm.com