ALL THE LITTLE THINGS (2012)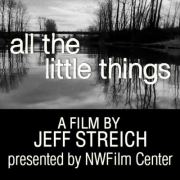 DIRECTOR: JEFF STREICH
Premiers Thursday, January 31st at 7:00pm at Whitsell Auditorium, Portland Art Museum (1219 SW Park Avenue) in Portland. Buy Tickets.
For his feature-length directorial debut, Academy Award-nominated cinematographer (and 2010 Oregon Media Arts Fellow) Jeff Streich turns to a local story. In 2003, 18-year-old Mount Hood Community College freshman Ben Cramer—described by those who knew him as soft-spoken and "extraordinarily ordinary"—was sentenced to life for the grisly murder of his friend, Cassondra Brown. Portraits of the teens emerge through interviews with family, friends, teachers, counselors, and Cramer himself, who, interviewed from the Snake River Correctional Facility, struggles to examine his past and his actions. Juxtaposing scenes of Brown's mother sorting through her daughter's belongings with Cramer's mother sifting through her son's car and baby clothes, Streich renders a complex exploration of the ripple effect of tragedies like these. (101 mins.)
Before the screening, the Northwest Film Center will announce the winner of the 2013 Oregon Media Arts Fellowship, funded through the support of the Oregon Arts Commission and the Gordon D. Sondland and Katherine J. Durant Foundation.